Just how much money do Americans spend on cycling? New study provides the answer
Nearly $100million dollars spent each year on bikes and riding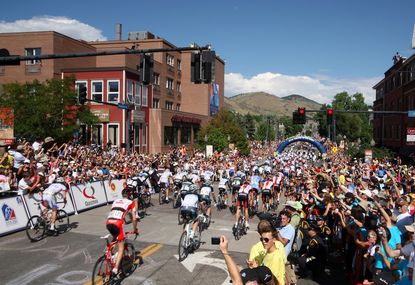 (Image credit: Yuzuru SUNADA)
If you thought you spent a lot of money on riding your bike, then you're far from alone according to a study released this week.
The Outdoor Industry Association (OIA) released its third Outdoor Recreation Economy Study this week and across the United States, cyclists are spending big money to ride their bikes; $100 billion according to the report from the Boulder, Colorado based organization.
Of the $887 billion they estimate is spent on outdoor activities each year, approximately $97 billion is used on cycling and other "wheeled sports".
>>> Attempt to hit visiting cyclists with $25 tax defeated by Montana state legislature
Nearly $14 billion of that is spent on equipment, with the remaining $83 billion used to take this gear on trips around the country. Ultimately, the OIA estimates this helps create 847,559 jobs in the outdoor industry.
The promotion of outdoor recreation and the government's investment in more bike paths, lanes and greenways, like the 32-mile stretch to be built in Manhattan in the coming years, is vital to not only public health, but the country's economy as a whole.
According to the study, Americans spend almost triple the amount of money on outdoor recreation versus gasoline annually.
Beyond actual dollars and sense, the report, conducted through research completed by Southwick Associates, indicates that increased levels of outdoor recreation contributes to higher senses of well-being, reduce crime rates, educational benefits and even reduced symptoms in children diagnosed with ADHD.
The OIA highlights cities like Richmond, Virginia (host of the 2015 UCI World Cycling Championships) to illustrate the success bikes can have on a community.
>>> Six American WorldTour riders to watch out for in 2017
Lead by the bipartisan Virginia Outdoor Recreation Caucus, the Richmond Regional Ride Center helped create 70 miles of mountain bike trails for beginners, experts and hand-cyclists, spanning three different parks in the greater Richmond area. The proliferation of cycling across the country is evident.
"America's outdoor recreation assets are its citizens' common trust. Our public lands and waterways belong to every American, and they are the backbone of our outdoor recreation economy. They hold the promise of prosperity and well-being. It is as much our responsibility to invest in them as it is our right to enjoy them," the study says.
These impressive figures could serve as leverage in the continued battle for more bicycle infrastructure around the country. The spending power of cyclists is huge, growing and continually looking for the latest gear and places that are safe and accessible for people of all ages to get outside, recreate and ride their bikes more.
Thank you for reading 20 articles this month* Join now for unlimited access
Enjoy your first month for just £1 / $1 / €1
*Read 5 free articles per month without a subscription
Join now for unlimited access
Try first month for just £1 / $1 / €1