Icons of cycling: Selle San Marco Rolls saddle
A perfect union of style and racing shape, the Rolls defined saddle design for a generation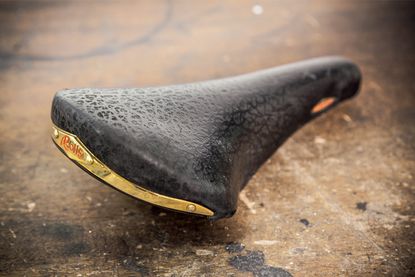 Has there ever been a more stylish saddle than the Selle San Marco Rolls saddle?
The gilded throne of Bernard Hinault and Greg LeMond when it arrived in the mid-1980s, the performance of the Rolls matched its looks, and it would become an enduring favourite with the pro peloton and in the velodrome until the late 2000s.
Sir Bradley Wiggins lent his state-of-the-art UK Sport track bike a touch of timeless class with a Rolls and Belgian Classics hero Peter Van Petegem sat on one when he rode his swansong Paris-Roubaix in 2006.
The quality and workmanship that went into Italian-made saddles was at its zenith in the early 1980s. This was a time when Brooks-style tensioned leather saddles were not all that far in the past, so the race was on to create the ultimate modern, hard-shelled saddle that was not only the perfect shape for racing but that also looked perfect.
>>> Icons of cycling: Velodromo Vigorelli
Selle Italia's curvy Turbo stole a march, and indeed secured the endorsement of the biggest name in cycling at the time, Bernard Hinault. But when Selle San Marco launched the Rolls in 1983, suddenly the Turbo looked a little dated — and of course Hinault would switch his allegiance to the Rolls.
Rolling on
Perhaps it's the slightly cheeky use of the name 'Rolls' that suggests luxury and exclusivity, but there's no question San Marco's saddle was beautifully made. Starting with the delta-shaped Rilsan (nylon) shell, it had high-density foam evenly glued all over it to create a predictably firm but supple surface.
>>> Icons of cycling: Campagnolo Super Record derailleur
The cover was made from fine calf's leather with its edges carefully cut and glued under the lip of the shell. At the back, the most distinctive feature of the Rolls was the polished golden band that was not only an unashamed slice of Eighties bling but also neatly pinned the cover to the shell with its rivets.
There were two matching embossed gold badges either side of the nose and the steel rails were brass plated to complete the expensive effect.
>>> Buyer's guide to bike saddles
Of course all the metalwork meant the Rolls was no featherweight at 360g, but as the professional steel racing bicycle of the mid-Eighties weighed around 24lb this was par for the course.
Although the Rolls was one of the first 'modern' saddles it didn't completely abandon the old ways. A Rolls had to be broken in, and therefore one Rolls could feel quite different from the next.
>>> Icons of cycling: Campagnolo Tool Case
Now, more than 30 years on, San Marco still makes the Rolls to the original spec, with some additional colour options, and it still looks as classic as ever.
Thank you for reading 5 articles this month* Join now for unlimited access
Enjoy your first month for just £1 / $1 / €1
*Read 5 free articles per month without a subscription
Join now for unlimited access
Try first month for just £1 / $1 / €1