Icons of cycling: The casquette
A small piece of kit with a huge history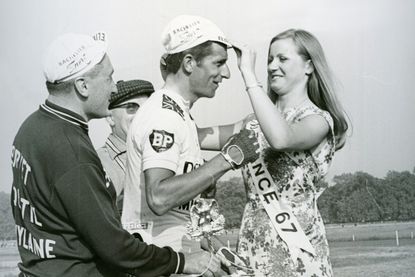 At some point in the last 20 years cycling caps became a fashion item. At first it was nothing more than a head-borne badge subtly announcing 'I am a cyclist' to others in the know.
Now they are more widespread, having been adopted by the East London hipster scene. A worn, Kas cap is now a common site in the Fairtrade coffee bars of Hackney, Hoxton and Dalston Junction.
>>> Icons of cycling: Tom Simpson's Peugeot chequered jersey
For us they remain a functional piece of headgear, something that real cyclists have always known the importance of. And casquettes are genuinely practical. Their peaks protect a cyclist's eyes against rain, sun and wind, and they'll even keep a little heat in on those cold winter mornings.
Turned around, the peak can keep the sun off tender necks, and long before any scientist invented the ice-vest, riders were soaking their caps in cold water, or better still filling it with ice cubes lifted during an old-style Tour de France cafe raid.
Taking it further still, one old ruse was to slip a cabbage leaf under a cap, to bring extra cooling as well as sun protection.
We look at the cycling cap: an accessory that was made for practicality but now serves more as a fashion
Titfer tradition
Hats and cycling go back to the very beginning. The first cyclist to win a race, James Moore in 1868, topped off his plus-fours and jacket with a natty stiff-brimmed hat, a bit like a scaled-down bowler.
Victorian high wheelers wore pill-box hats with chin straps, and when the Tour de France started in 1903 racers wore cloth caps styled like Yorkshire's beloved flat cap.
>>> Icons of cycling: the Col du Tourmalet
The peak offered protection from sun and rain and was a first nod at a style that would stick. When 1906 Tour winner René Pottier protected his head with a white floppy hat, he wasn't copied.
Cloth caps prevailed until the outbreak of the First World War. After the war, the peloton was split — diehards stuck with their cloth caps, while young bloods preferred peaked school caps.
>>> Icons of cycling: Colnago C40
It was the increasing sophistication of professional teams during the 1920s that next changed cycling style. As the decade progressed, distinctive team jerseys with sponsors' names on them became universal. This was when the cotton casquette was born, often in colours to match the team kit.
In 1955 sponsors' names started appearing on caps and the yellow cap was introduced in the Tour de France. It was optional, but could be worn by the members of the leading team so they stood out for spectators. Yellow caps were scratched in 1992, and today the leading Tour team riders have the option of wearing yellow helmets.
>>> Icons of cycling: Spinergy Rev-X wheels
Finally there was the supporter's cap, and their heyday was during the 1960s and '70s. Fans of top riders, and some fairly obscure ones in bike-mad Flanders, could buy caps with their heroes' names on them.
They were commissioned by supporters' clubs, or could be bought at races from freelance sellers, who were cycling's equivalent of the 'looky looky' man.
Despite the omnipresence of helmets, perhaps even because of it, the casquette remains a cycling style icon.
Thank you for reading 10 articles this month* Join now for unlimited access
Enjoy your first month for just £1 / $1 / €1
*Read 5 free articles per month without a subscription
Join now for unlimited access
Try first month for just £1 / $1 / €1
Freelance Journalist & Author
Chris has written thousands of articles for magazines, newspapers and websites throughout the world. He's written 25 books about all aspects of cycling in multiple editions and translations into at least 25
different languages. He's currently building his own publishing business with Cycling Legends Books, Cycling Legends Events, cyclinglegends.co.uk, and the Cycling Legends Podcast