Icons of cycling: The Flying Gate
We hail a British design classic that is still going strong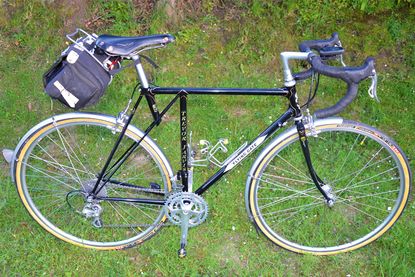 British innovation in cycling didn't start with Lotus and Chris Boardman. The legendary Flying Gate, which is still being produced 82 years after the first one was brazed, proves that British engineers were already rethinking the conventional diamond frame as long ago as 1934.
'Flying Gate' is a nickname that stuck. Its creators, W & R Baines of Bradford, gave their unique frame much more impressive-sounding names such as 'International TT' and 'Whirlwind'. But their straight-talking Yorkshire customers said what they saw.
However, 'Flying Gate' certainly wasn't meant as a criticism. When Bill and Reg Baines launched their design, it was an immediate success. Pre-Flying Gate, the regular 'lightweight' had a long wheelbase, since seat tube angles were slacker and in-line seatposts were standard.
>>> Icons of cycling: Reynolds 531 tubing
The Baines brothers set their seat tube vertical so that it joined the top tube much further forward. They added a second section of seat tube further back, supported by a second set of seatstays. This strutted frame brought the rear wheel much closer to the bottom bracket and gave a stiffer and more responsive rear triangle. The original model, the VS37, had a wheelbase of just 37in (94cm).
>>> Icons of cycling: Campagnolo Shamal wheels
The International TT, as the name suggests, was built for time trialling on a fixed wheel, the principal type of racing in Britain at the time. A later version designed for derailleur gears won races including the Isle of Man massed start race with Jack Fancourt in 1937, and was ridden in the World Championships in Valkenburg in 1938.
Clean your bike in seven minutes
Eighties renaissance
Production ceased in 1954 but then, a full 25 years later, Trevor Jarvis, an engineer with his own company and a Flying Gate fan, restarted production.
"When I went into the frame-building world there was only one frame I wanted to make," he said. "I got in contact with Bill Baines and had many happy conversations with him in his workshop, then eventually took over."
An early, ill-fated foray into pro racing as bike sponsor of the Anglo-Belgian Glemp-TJ Cycles team got the Flying Gate noticed again, while back home top domestic time triallist Martin Pyne rode a TJ Flying Gate during the early Eighties and the frame's reputation was steadily rebuilt.
>>> Icons of cycling: Plum bike shop, Ghent
Today's Flying Gates are exactly the same as the originals, except for the fancy lugwork that Jarvis added when he took over. "With it being a Flying Gate, you get an extra lug - the 'T' lug," Jarvis pointed out.
The top of the range is the Jupiter model (£1,750), which is 'Rolls Royce class' and has hand-crafted lugs. The basic model is the Dovedale at £1,080, which has a clean look and non-ornate lugs in one colour as standard.
>>> Icons of cycling: UK Sports Institute track bike
Jeremy Cartwright is now the principal Flying Gate frame-builder while Jarvis, in semi-retirement, still does repairs.
The TJ Cycles order book proves the Flying Gate is as popular as ever. Waiting time for a TJ Flying Gate is currently at two years.
Thank you for reading 10 articles this month* Join now for unlimited access
Enjoy your first month for just £1 / $1 / €1
*Read 5 free articles per month without a subscription
Join now for unlimited access
Try first month for just £1 / $1 / €1
Simon Smythe is Cycling Weekly's senior tech writer and has been in various roles at CW since 2003. His first job was as a sub editor following an MA in online journalism. In his cycling career Simon has mostly focused on time trialling with a national medal, a few open wins and his club's 30-mile record in his palmares. These days he spends most of his time testing road bikes, or on a tandem doing the school run with his younger son.