Jens Voigt prepared to suffer for Hour Record
"I do know it's going to be pretty hard on my body" says Jens Voigt on evening before Hour attempt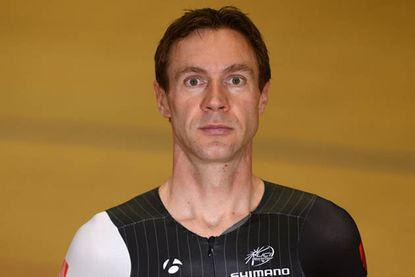 (Image credit: MAXIME SCHMID)
On the eve of his Hour ride, Jens Voigt admitted that he knew exactly how tough the event can be. Three-time Hour Record breaker Chris Boardman was his first roommate as a young pro in the Credit Agricole team in 1997, and Voigt was there for the final Boardman Hour in 2000:
"I was lucky to be friends with Chris, and to be there at his last hour record in Manchester," Voigt said. "I remember we had breakfast together the next day, with his family and mine, and he could hardly walk. So I do know it's going to be pretty hard on my body."
Boardman isn't the only record holder Voigt has been in touch with:
"My coach here, Daniel Gisiger, the Swiss national track coach, held the amateur record once himself. So he has explained me a few things to me, like how to ride, how to approach it mentally. I also had a brief meeting with Tony Rominger [who broke the record in 1994] this morning, he was here at the track and we exchanged a few words and experiences."
For his part, Chris Boardman said he was interested to see how his old roommate fared. "It's going to be a bit messy, I suspect. Just how you ride the track can add up to hundreds of metres over an hour. How he'll do is real guesswork, there are so many variables. But sticking my thumb in the air… maybe 51km, or something thereabouts."
Voigt has worked hard on his trackcraft, though. "I'm not a typical track rider," he said. "So it's hard to stay on the black line in the corners, not to drift up. The further up you go, the longer you make the lap. So I had to work hard on that. And it's also hard to keep the position – the shoulders in, the head down to make the air flow smoothly. You can get super-aero, but it's difficult to hold that position for an hour and be able to pedal and to breathe: maybe if you squeeze your shoulders together a little bit more, you are a bit more aero but you can't breathe. We have found a good compromise.
"Our DS Adriano Baffi came to see me, and said, 'Wow, you are looking pretty good.' Heiko Salzwedel [former Australian, British and Danish track coach] came by, he is now working for the Swiss federation, and he said it was a good position for somebody who has just come from the road. I think for me and my shape and for what I want to do, we have an ideal position."
More on Jens Voigt's Hour Record attempt
Jens Voigt holds press conference on eve of his attempt at the Hour Record in Switzerland
As the legendary rider prepares his assault on the Hour record, we reflect on what makes this cult hero so
Jens Voigt's attempt on the Hour record on Thursday has reignited interest in the iconic challenge
Thank you for reading 5 articles this month* Join now for unlimited access
Enjoy your first month for just £1 / $1 / €1
*Read 5 free articles per month without a subscription
Join now for unlimited access
Try first month for just £1 / $1 / €1
Michael Hutchinson is a writer, journalist and former professional cyclist. As a rider he won multiple national titles in both Britain and Ireland and competed at the World Championships and the Commonwealth Games. He was a three-time Brompton folding-bike World Champion, and once hit 73 mph riding down a hill in Wales. His Dr Hutch columns appears in every issue of Cycling Weekly magazine
As a writer, he wrote the award winning The Hour about his attempt on the sport's most famous and sought-after record. He followed that up with Faster, about the training, the science the genetics and the luck behind the world's fastest riders, and Re:Cyclists, a history of cyclists from 1816 to the present day.
He's written for outlets ranging from Cycling Weekly to the New York Times, and has presented and and commentated for the BBC, Eurosport, Channel 4, and Sky Sports.
Before he did any of that he was a legal academic at Cambridge and Sussex universities. He now lives with far too many bicycles in London and Cambridgeshire.