Jens Voigt Hour Record: "I'm planning on riding 50-something kilometres"
Jens Voigt holds press conference on eve of his attempt at the Hour Record in Switzerland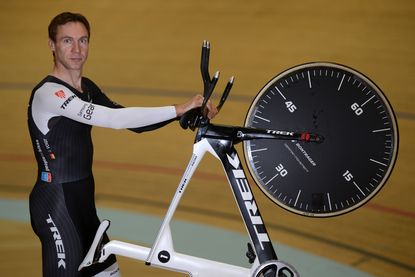 (Image credit: MAXIME SCHMID)
Jens Voigt is confident that he will break the World Hour Record on Thursday evening at the Velodrome Suisse in Grenchen.
At a press conference on the eve of his attempt, which will mark his retirement as a professional cyclist, the German announced his schedule and equipment choices, revealing that he would ride a conservative and controlled first thirty minutes, then "see how much is left". He needs to ride further than 49.700 kilometres to beat Ondrej Sosenka's record, and believes he has a safe margin to set a new mark.
"If it turns out to be 51 kilometres in the end, I'll be very happy," he said. "But we have a conservative approach to it."
"I'm an emotional person, so one of the biggest challenges will be not to start too fast," he continued. "If you aim at 50 or 51 kilometres, it feels easy for the first 10 minutes, but you've got to ride for another 50 minutes. The challenge will be not to get too excited.
"I'm going to do the first 30 minutes at a controlled speed, let's say 50.5 or 50.4 kilometres per hour, and then we can see how much I can give to finish it off. If I'm already in the red by then, I'm really going to suffer and struggle in the second half. But I'm still planning on being ahead of the old record by a comfortable margin at the halfway point."
Voigt has been based at the Velodrome Suisse for three weeks. He'd initially pencilled in riding the Tour of Austria, then attacking the record the weekend after the Tour de France, but selection for the Tour team meant that he had to put the attempt back to September. Twice-daily training sessions at the velodrome, which is 450 metres above sea-level, and extensive equipment testing, have given Voigt the confidence that he can beat the mark.
In his last major training session last Friday, he underwent a dress rehearsal for his attempt, using the bike, wheels, helmet and skinsuit that he will use on Thursday, riding a 30-minute effort at race pace from a standing start. Following a six-minute break, he then did a 40-minute effort. "It was one hour and 10 minutes in total, with a six-minute break, so I think we were really close to real conditions."
Following the record attempt, retirement beckons for Voigt after 17 seasons as a top-level professional. The German admitted that while he was looking forward it, he was also nervous about the imminent change in his life.
"This is the thing I've been doing longest in my life," he said. "I've been married 11 years, I went to school for 12 years, but I've been cycling 36 years. It's frightening. I'm happy and relieved that there's no more suffering, no more training, no more pressure to perform, or fight for a position on a downhill or in a sprint. It will be a huge challenge to stop, but I've known this would happen since the start of the year, so I've had time to get myself ready for it."
More on Jens Voigt's Hour Record attempt
As the legendary rider prepares his assault on the Hour record, we reflect on what makes this cult hero so
Jens Voigt's attempt on the Hour record on Thursday has reignited interest in the iconic challenge
Tour de France winner and former record holder back the veteran German to set the new "Unified" benchmark on Thursday.
Thank you for reading 10 articles this month* Join now for unlimited access
Enjoy your first month for just £1 / $1 / €1
*Read 5 free articles per month without a subscription
Join now for unlimited access
Try first month for just £1 / $1 / €1
Edward Pickering is a writer and journalist, editor of Pro Cycling and previous deputy editor of Cycle Sport. As well as contributing to Cycling Weekly, he has also written for the likes of the New York Times. His book, The Race Against Time, saw him shortlisted for Best New Writer at the British Sports Book Awards. A self-confessed 'fair weather cyclist', Pickering also enjoys running.