Katie Archibald column: Sometimes the post-Games party takes as big a toll as the racing
Gold medal success at the Commonwealth Games for Katie Archibald meant a gold-standard celebration... but now there's work to be done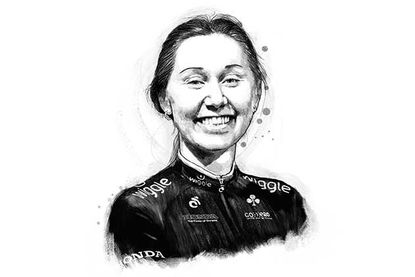 Olympic and world champion, Katie Archibald got into cycling after winning handicap races on a Highland Games grass track. She writes a column for Cycling Weekly each week – this week's was written at the end of the 2018 Commonwealth Games in Australia

In the words of Beyonce: "I've been drankin', I've been drankin'."
I'm writing this in the hope my head will stop spinning if I plant it in rational words. Strong words like "filofax" and "gruff".
The muggy blood flow that's making it to my brain right now won't allow for anything more extravagant; there shall be no talk of "ambidextrous" or "antidisestablishmentarianism" in the following passage.
I've had a fantastic time at my second Commonwealth Games. Last night I celebrated the end of that time and it seems to have put my body under just as much stress as the races that made up my Games.
>>> Katie Archibald column: Why achieving a winning smile can be harder than claiming a medal
I've ridden five events in total and, oddly enough, the programme order ran perfectly in line with what I prioritised. My first event was the individual pursuit, followed by the points race, the scratch race, the road time trial and then the road race.
The good news is that in the event that I targeted and prized most highly, the individual pursuit, I walked away with a gold medal and a new British record (the time for the three kilometres was 3 minutes 24.119 seconds). The bad news is that from that moment things could only get worse.
A silver medal in the points race was a very gentle way to slip, followed by a fourth in the scratch and the road TT, but finally it was the road race that saw me roll home out of contention and, I confess, unaware of where I placed. Not a brilliant sign.
So that gold medal feels a long way away, on the other side of a busy programme here on the Gold Coast, and particularly on the other side of last night which was the sort of social affair my body can only take the strain of once a season.
My left hand slaps my right hand away if I try this lark with the threat of having to train the next day as well. Celebrations will temper in intensity when I get home.
There's a big road season ahead now, and if I can get over this hangover and make it home I've got the Tour de Yorkshire to prepare for.
No rest for the wicked. Well, apart from at the cafe of course.
Thank you for reading 5 articles this month* Join now for unlimited access
Enjoy your first month for just £1 / $1 / €1
*Read 5 free articles per month without a subscription
Join now for unlimited access
Try first month for just £1 / $1 / €1