Lance Armstrong causes Twitter storm after Fabian Cancellara jibe
Lance Armstrong gives one-word reply to Trek-Segafredo's message of congratulations to Fabian Cancellara after Olympic time trial win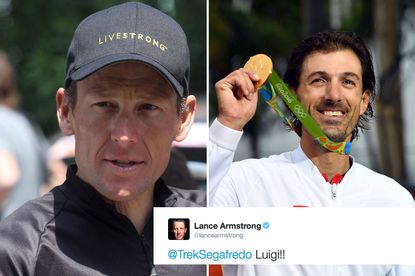 Former professional Lance Armstrong has caused an upset on social media with his reply to Trek-Segafredo's congratulatory message to Olympic time trial winner Fabian Cancellara.
Trek-Segafredo had said "BOOM! @f_cancellara is the Olympic Time Trial champion" on Twitter directly after its rider Cancellara had won the Rio TT for Switzerland on Wednesday.
Armstrong replied with one word: "Luigi!!"
To many, the meaning of Armstrong's intentionally cryptic and vague message may be lost, but to those that followed the Operation Puerto doping case it has another meaning.
'No. 24 Clasicómano Luigi' was a codename allocated to one of the blood bags recovered from the clinic of Madrid doping doctor Eufemiano Fuentes in 2006. Past rumours have linked the bag to Cancellara, or another former pro, Thomas Dekker.
Cancellara has always denied any link to Fuentes, and has always denied that he has ever been involved in doping.
Dekker replied to Armstrong's tweet, simply saying "Wasn't me!".
It's also the name of Luigi Cecchini, long-time trainer who worked with Bjarne Riis at the CSC team that Cancellara rode for from 2006 to 2010. In his tell-all book The Secret Race former CSC rider - and former team-mate of Armstrong - Tyler Hamilton asserts that Cecchini was party to doping. Something Cecchini strongly denies.
Armstrong's message to Trek and Cancellara received a flood of replies from irate Twitter users, dismissing his jibe.
>>> Twitter reacts to Fabian Cancellara and Kristin Armstrong's Olympic time trial wins
It is now possible that the identity of the owner of the blood contained in the bag marked 'Luigi' may be confirmed as WADA and the UCI have obtained samples from the 211 blood bags recovered from Fuentes' clinic.
It is likely that DNA from the samples will be checked against athlete's DNA profiles already held by WADA and the UCI to help identify the owners of the samples.
Thank you for reading 20 articles this month* Join now for unlimited access
Enjoy your first month for just £1 / $1 / €1
*Read 5 free articles per month without a subscription
Join now for unlimited access
Try first month for just £1 / $1 / €1