Leipheimer out of Paris-Nice due to fractured back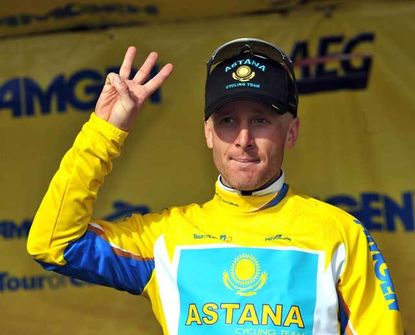 Levi Leipheimer will not start Paris-Nice (March 8-13) due to injuries sustained as a result of a crash on stage three of the Tour of California.
According to Leipheimer's Team Astana website, the American fractured his sacrum - a large bone positioned at the base of the spine. He has been suffering from back pain since the American stage race which finished last week.
Leipheimer confirmed the news on his Twitter page. "Looks like I fractured my sacrum in that stage 3 crash, was wondering why the pain wouldn't go away! It's not bad but no Paris Nice for me," he wrote.
The crash happened as a result of Leipheimer's front wheel coming into contact with Astana team-mate Lance Armstrong's back wheel as they were riding in the main bunch. Leipheimer lost control of his bike, and landed on the road awkwardly.
At the time, Leipheimer shrugged off the damage - perhaps to fool his rivals: "It was my fault, I looked down for one second, it was windy and everybody moved left to right a little bit and next thing you know I touched a wheel," he said after the stage. "Usually you can kind of put your foot down and pull it out, but not today, I went down on my ass!"
?It was one of those crashes where it hurts really bad right away and then it goes away, so I think that's a good sign.?
Despite the severity of the injury, Leipheimer not only managed to finish the Tour of California, but win it for the third consecutive year - taking top honours in the individual time trial stage along the way.
RELATED LINKS
Leipheimer wins 2009 Tour of California
Thank you for reading 20 articles this month* Join now for unlimited access
Enjoy your first month for just £1 / $1 / €1
*Read 5 free articles per month without a subscription
Join now for unlimited access
Try first month for just £1 / $1 / €1