New women's racing league launched in London
A new race league has been set up for women in London with over 100 riders attending the first session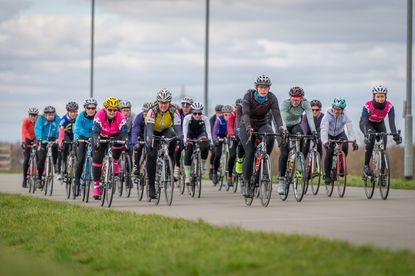 (Image credit: Dave Hayward Photos)
By Thomas Dodd
Female cyclists from across London and the South East are being encouraged to "pin a number on their backs" and get involved in a newly established racing league.
London Women's Racing (LWR), launched at the start of this year, has been set up with the intention of getting more female riders together through a series of race events and training days.
The opening weekend on March 5 and 6 brought in over 100 competitors, a number far beyond the expectations of the event organisers.
LWR will attempt to pick up the baton left by London Women's Cycle Racing, which ran for four years from 2010 until it came to an end.
Beth Hodge, secretary for the LWR, highlighted the impact the club is looking to have over the coming months.
She said: "After the London Women's Cycle Racing people wanted to see a racing league set back up and we're hoping this time round things will be a lot bigger than before.
"We want people to come together to talk about women's racing and then drive them to pin a number on their backs.
"We're very focused on novice riders, we want to try and flood the category three and four races."
How to ride one of Britain's steepest climbs
The inaugural training event on March 6 saw a large number of riders undertake a series of exercises aimed at improving techniques for bunch riding at speeds, sprint lead out trains and positioning skills.
>>> Five ways to eat for weight loss
Huw Williams, level three British Cycling coach, led the sessions and explained how important the day was for all those who attended.
He said: "It is a real surprise to people just how intense racing can be and the tactics involved. To be able to experience that in a safe environment gives a massive advantage when on a start line for the first time."
Looking ahead, in addition to the races already planned for 2016, the LWR hopes to work with other cycling leagues to co-ordinate race meetings to avoid clashes and ultimately increase participation for female riders.
Hodge said: "It is vitally important everyone now pulls together, from the racers themselves to the promoters and British Cycling—if we are to grow the sport collaboration needs to take place.
"This launch was to show people we are serious about bringing women in London together. It is important to show the racing community that something is being done."
For more information or to sign up for future events, go to www.londonwomensracing.co.uk.
Thank you for reading 20 articles this month* Join now for unlimited access
Enjoy your first month for just £1 / $1 / €1
*Read 5 free articles per month without a subscription
Join now for unlimited access
Try first month for just £1 / $1 / €1