Motorpoint back in charge of Tour Series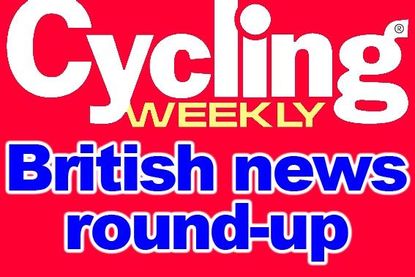 MOTORPOINT BACK IN CHARGE OF TOUR SERIES
A strong showing from the Motorpoint Marshalls Pasta in the Stoke-on-Trent round of the Tour Series propelled the team back into the lead of the event, with just two rounds left to play for.
"We've just been on the wrong side of the results for the last few races," explained team manager, Keith Lambert.
"It definitely put a smile back on our faces, getting beaten week after week gets to you after a while. We hadn't been doing anything wrong in the previous rounds, we were just edged out and found ourselves on the wrong side of the results.
"We rode more positively in Stoke and forced the issue more. You'd expect Rapha to cope but they looked tired; the orange jerseys weigh heavy," he added.
With two rounds left to go, Motorpoint leads Rapha and Endura by three points with the latter two tied in second.
A dominant display in Stoke puts Lambert's boys back in the driving seat


YET ANOTHER ACCOLADE FOR YOUNG KING
Dani King and her Horizon Fitness team dominated the inaugural Tour Series Women's Grand Prix in Stoke-on-Trent, with King scooping the win and team-mate Helen Wyman in third.
Four other Horizon riders filled the top ten in a imperious display of strength, in last night's race, a warm-up event for the Tour Series but also a test event for a potential future women's series.
"Hannah Rich attacked and was brought back by Hannah Barnes [Motorpoint] who got a gap, as soon as the team bought her back I just put my head down and went," said King after the race.
"I looked back and saw no one was with me so just kept going. I got about a 30-second lead and kept it for the rest of the race. There were strong girls in the race including Jo Rowsell so I knew it wasn't going to be easy.
"It was also a real confidence booster for me knowing I could win by attacking and staying away rather than just in the bunch sprint. The girls worked so hard and I'm so grateful to them".
Results

1. Dani King, Horizon Fitness

2. Hannah Barnes, Motorpoint Marshals Pasta
3. Helen Wyman, Horizon Fitness
4. Hannah Rich Horizon Fitness
5. Leanne Thompson, Vanilla Bikes
6. Alex Greenfield, Horizon Fitness
7. Melissa Bury
8. Gabby Day, Horizon Fitness
9. Lucy Garner, Motorpoint Marshals Pasta
10. Penny Rowson, Horizon Fitness


Yet another win for Dani King
SHAW READY FOR NATIONAL 50
Julia Shaw will line up as the overwhelming favourite to defend her National 50 title on Saturday evening in Hampshire.
"I rode it a few years ago because it's local for me. From what I remember it wasn't fantastically quick, but I think I'm going quite a bit faster now. If it's quicker than the A500 where I did the record last year, I'd be surprised. Staying ahead of the competition is all I'm aiming for."
With Sarah Storey doing the not-so-small undertaking of the Ride Across Britain, her main rival is out of the equation.
Still, Shaw is far from complacent. "Mathilde Mathijsse, who was third in the 25, is riding and there's people like Lynne Taylor who can pull out a good ride. I'll be keeping an eye on them.
"It's quite nice to go off last because you kind of know where you are," she added.Meanwhile, Michael Hutchinson is the strong favourite and last man off in the men's event.
Thank you for reading 20 articles this month* Join now for unlimited access
Enjoy your first month for just £1 / $1 / €1
*Read 5 free articles per month without a subscription
Join now for unlimited access
Try first month for just £1 / $1 / €1