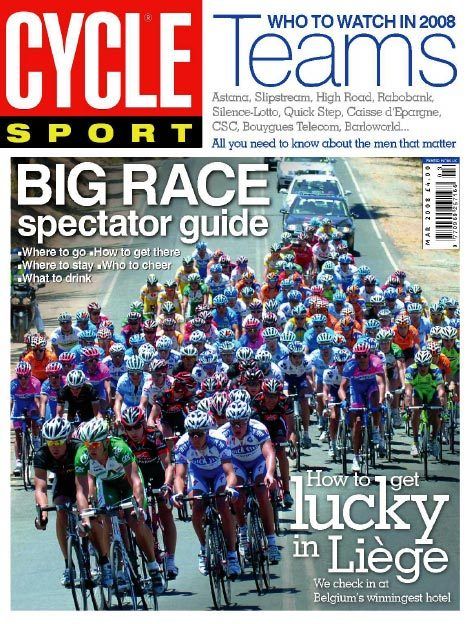 The new issue of Cycle Sport magazine brings you a complete guide to every 2008 cycle team that matters. Who are the stars? What are the targets? What's going to happen to them in 2008? It's all here in the most in-depth teams guide in the world.
Also in the March 2008 issue is a feature on 'days to treasure' - Cycle Sport's definitive spectators' guide to the big races of the 2008 season. Where to go, where to stay, what to drink, where to stand and who to cheer for in all the major races of the year.
There's a feature on Hove Malpurtuus hotel in Belgium - every year a rider who stays at the establishment wins a major Classic. Cycle Sport goes and finds out what their secret is.
Elsewhere in the magazine CS meets up with Britain's Ted Wood, who has been building frames and wheels for the world's best riders since the 1960s. CS also takes a retro look at the old training races that used to take place every year on the Côte d'Azur.
Plus there are features on: the ProTour brain drain,why big name riders are dropping down to cycling's second division; Christian Vande Velde on home brewing, life in Gerona and riding two Grand Tours in a season; CS rates the 2008 team jerseys; ProTour Finale, just what are the UCI concocting for their end-of-season extravaganza; Graham Watson hits the Tour Down Under, and looks forward to the Tour of California; and Broomwagon, putting the bile into bicycle
Cycle Sport March 2008 is on sale from Thursday at WHSmith, major supermarkets and all good newsagents priced £4.
RELATED LINKS
Cycle Sport: www.cyclesport.co.uk