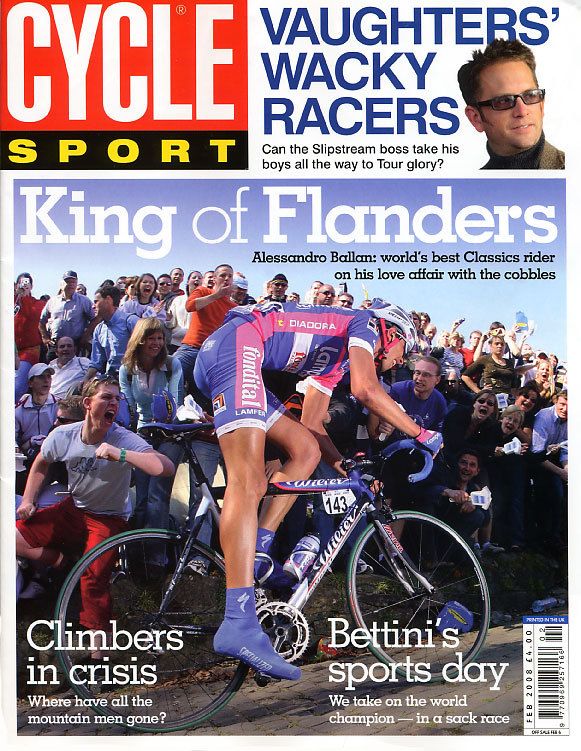 We may have barely shaken off the New Year hangover, but already the ProTour season is looming... The latest issue of Cycle Sport magazine is packed with all the info you need to get prepared for the new international road race season.
Team Slipstream boss Jonathan Vaughters talks exclusively to CS about the year ahead as his argyle-clad clean team prepares to take on the big boys.
CS also pays a visit to Alessandro Ballan, the Italian Tour of Flanders winner who has a rare love of Belgian cobbles.
Where have all the climbers gone? That's the question that CS set out to answer with a feature on why there are no pure climbers in the peloton any more.
Plus, there are features on the 2008 Tour de France, Paolo Bettini's sports day, Euskaltel's plan for 2008, Laurent Jalabert and Cycle Sport and Cycling Weekly photographers Andy Jones and Luc Claessen pick out their favourite shots of the 2007 international season. There's also the regular round-up of pro tech innovations, news review, analysis, race calendar and the scrapings from the carbon soles of the pro's SPDs that is Broomwagon.
Cycle Sport February 2008 issue is on sale now from WHSmith, major supermarkets and all good newsagents priced £4.
EXTERNAL LINKS
www.cyclesport.co.uk.