New doping agency to target UK riders at all levels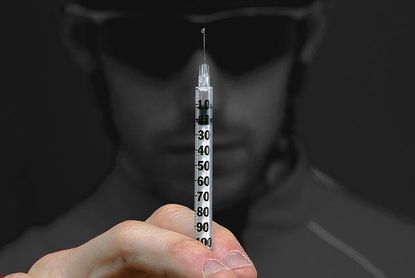 The formation of the new UK Anti-Doping agency last December has seen the fight against doping in this country take on a new, more targeted and intelligence-led approach.
Taking over responsibility from an in-house department at UK Sport, the new independent organisation allows for a wholesale and better-informed approach to tackling doping in this country.
"In our previous guise as Drug Free Sport, we only had the power to pursue three out of the eight anti-doping rule violations," explained UK Anti-Doping's Director of Operations, Nicole Sapstead, to Cycling Weekly.
"Basically, they were all as a consequence of testing, that is: someone refusing [a test], a positive test, or a whereabouts failure.
"There are five other anti-doping rule violations that relate to use, trafficking, possession, aiding and abetting - things like that. [Previously] we didn't have the capacity, the experience, or the funding to be able to pursue them."
Now given independence from UK Sport and greater responsibility to pursue cases rather than handing over initial findings to the various sports governing bodies, UK Anti-Doping can work with such agencies as the Serious Organized Crime Agency, UK Borders and Medicines and Healthcare Products Regulatory Agency in sharing intelligence.
Sapstead said that under the old system "the noises we were getting from law enforcement was that they would just not feel confident giving us information about somebody who was trafficking or supplying."
Now the agency has been set up to receive this information and work with it "in a way, that is credible, that ensured the data is protected, and kept securely".
Last week, UK Anti-Doping bolstered its intelligence gathering with the launch of a new confidential 'Report Doping in Sport' phoneline. This allows athletes, support personnel or concerned family and friends to pass on information about the use, supply or trafficking of doping substances.
With this whole new level of intelligence, UK Anti-Doping is able to adopt a more targeted approach to netting suspected dopers.
"We receive information from international counterparts, members of the public, athletes, governing bodies and doping control officers who are out there all the time.
"Based on that information, there might be indications that we might want to go and target somebody in or out of competition or at a certain time of day. It's not about testing people more, it's about being more intelligent where we put the test."
Sapstead said that the agency might also be alerted by notable performances or someone's change in physique.
However, she added: "People need to be reassured: we don't just act on just one piece of information. If we got a call tomorrow on the hotline that said 'I think Joe Bloggs is doing something', we won't rally the troops and then go and test Joe Bloggs.
"It's a piece of information that goes into the National Intelligence Model, which looks at what the source is, where it's come from, how reliable is it, does it tally with anything else we're receiving. We're here to protect athletes - not to act on someone who's got some kind of vendetta against them."
Although Sapstead said she could not comment on details of operations, Cycling Weekly believes that anti-doping testers have already been target testing at some cycling events. We also believe that there is currently a case pending involving a British cyclist. Neither UK Anti-Doping or British Cycling would comment on this matter (see UK Anti-Doping: what's the protocol?).
Asked if UK Anti-Doping had a particular strategy for cycling, Sapstead replied: "I wouldn't say cycling is any different from any other sport.
"It has in the past had huge problems. Particularly from an international perspective, it's trying to make great steps to try and sort that problem out. That's not to say we sit here and target cycling ad infinitum. We have a number of sports that are of equal interest - sometimes even more."
Doping testing: coming to a race near you?
Could it be that anti-doping testers are going to turn up your local road race? Quite possibly. UK Anti-Doping has recently been drug testing at lower level events than we're used to.
Last month the agency turned up at the Chas Messenger Road Race and in March the Roy Thame Cup.
Although both are respectively categorised as National A and B level events, they're a rung or two below Premier Calendar level - the latter is open to third-category riders.
Asked if UK Anti-Doping had been specifically targeting lower-level cycling, Director of Operations Nicole Sapstead said: "I couldn't say it's our primary focus. Yes, it can happen. With our limited amount of resources, our general focus is at the upper levels of the sport. But that's not to say when you're at a certain s level or below, don't worry about it.
"Often what we see in certain sports is what we call the feeder level - just below the top. They're the very people fighting for that place in the next level. That's sometimes where the biggest risk is.
"We've always had the ability to test at the lower levels - always.
"And you have to look at it from an educational point of view as well. Sometimes, simply going to an event that has never before been tested can create a fantastic deterrent effect.
"It's not necessarily that we think we'll detect something, but it's enough to make people sit up and think 'oh, we can be tested'."
Related links
The powers of UK Anti-Doping
UK Anti-Doping: What's the protocol?
Further info
Report Doping in Sport hotline: 0800 032 2332

UK Anti-Doping website
Thank you for reading 20 articles this month* Join now for unlimited access
Enjoy your first month for just £1 / $1 / €1
*Read 5 free articles per month without a subscription
Join now for unlimited access
Try first month for just £1 / $1 / €1