Newton-Elliott match tops the bill for return of Saturday's Shropshire Newport Nocturne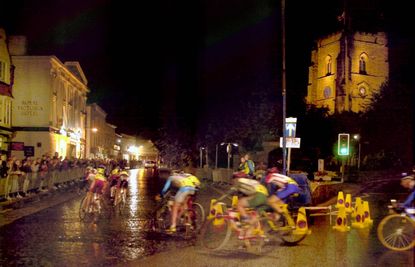 The return of Britain's original night time race this Saturday (September 4) - the Shropshire Pinarello Newport Nocturne - will once again see many British stars in action, plus the famous Past Masters race which brings thousands of spectators to the town.
The popular event, in aid of the Dave Rayner Fund, returns after a three-year absence.
Promoters Mick and Nick Jeggo, the father and son partnership running a local car sales showroom, always have a new style race up their sleeve.
This time the special event is a two-man match between former double world champion, the Olympic silver and bronze medallist Chris Newton, and ever-green veteran Malcolm Elliott, the former Tour of Spain points winner who since his comeback in 2003, has won the Premier Calendar and twice won the national criterium series. Elliott can expect a big cheer, for he won the elite race here in 2007.
The event is planned as a big send off for Newton who has announced his retirement, and is also as a salute to the indefatigable Elliott who, at 49, was also rumoured to be retiring. But he told Cycling Weekly differently: "Whoa!...it's not like that." He's only planning to cut back on his hectic racing schedule, he says.
The pair will race a two-lap time trial, each of them paired with look-a-like youngsters, stars of the future.
They are Jack Escritt and James Ireson, aged 12 and 13 respectively. They will ride with their heroes for a lap each, before pulling out to allow Elliott and Newton to complete the race.
Title of the event is the "New Generation - Regeneration Challenge", sponsored by the Newport Regeneration Partnership. Promoter Nick Jeggo said "We wanted top give Malcolm and Chris a night to remember. We always get huge crowds here and we think this special event is a great way to give them centre stage on the night."
As always, the big attraction of the night is the Past Masters Race, featuring many of the stars who raced the big road races held in Newport in the 70s and 80s.
This year the race the past masters are Bob Jones, returning from his home in France, ex Ron Kitching cyclo-cross Pro, Barry Davies, Neil Martin (father of Tour of Poland winner Dan), "Super" Sid Barras, Keith Lambert, Reg Smith, Geoff Wiles and 80 year old John Perks.
Former Cycling Weekly columnist and former pro Tony Bell promises to ride, but only if allowed a lap out now and again. He will remember there's a good line in BBQ sausages from spectators in their front gardens on the back streets!
A top class field is lined up for the finale, the Pinerallo Newport Nocturne.This features Newton and Elliott - of course! But also Tony Gibb, Olympic champion Ed Clancy, Andy Tennant, Dean Downing Ian Bibby,and Simon Holt.
The winner wins his own weight in beer! And working that out is an event in its own right. It started off as a publicity stunt, but not wanting to waste a perfectly good set of specially made giant scales to weigh winner and beer, the ceremony has become a required fixture of the evening.
The honour weigh up winner and his prize, falls to Paul Quinn, landlord of The Pheasant which supplied the beer.www.bikerace.co.uk
Thank you for reading 10 articles this month* Join now for unlimited access
Enjoy your first month for just £1 / $1 / €1
*Read 5 free articles per month without a subscription
Join now for unlimited access
Try first month for just £1 / $1 / €1
Keith Bingham joined the Cycling Weekly team in the summer of 1971, and retired in 2011. During his time, he covered numerous Tours de France, Milk Races and everything in-between. He was well known for his long-running 'Bikewatch' column, and played a pivotal role in fighting for the future of once at-threat cycling venues such as Hog Hill and Herne Hill Velodrome.