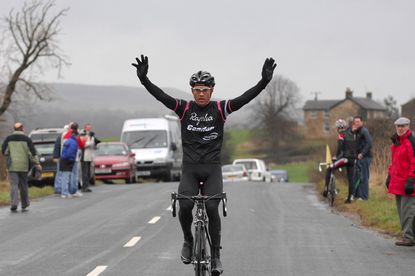 Clayton Velo Spring Classic 2008 photo gallery>>
Rapha Condor Recycling took the definition of dominance to a new level when they filled the first six places in Sunday?s Clayton Velo Spring Classic.
Chris Newton won the handicap race held on a circuit near Clitheroe after a commanding performance by the men in black.
?Everyone in the scratch group worked well to bring it all back together with six laps to go,? said Newton, who next morning flew to Majorca for a British Cycling training camp ahead of the World Track Championships.
?The first attack decided it, really. Dean [Downing] and Graham [Briggs] went with it with two riders from Kinesis [James Sampson and Matt Cronshaw]. A couple of miles later I went across and then we nailed it.
Swipe to scroll horizontally
?It was verging on overkill?
? Read Rapha Condor Recycling boss John Herety?s verdict on the Clayton Velo in Thursday?s Cycling Weekly
?I attacked two-and-a-half laps out and it came down to the three of us [Downing, Briggs and Newton].
?When it came down to the finish, I attacked first, got my foot in the door and went for it.
?With the work I?ve been doing for the World Championships maybe I am a bit fitter than a lot of riders. It was a 100-kilometre race, so maybe I?d have suffered a bit more if it?d been longer.
?It was a really awful day weather-wise, and although it looks like we completely dominated it was actually a big field and everyone was racing hard. It was a really good race on a really wet day. It wasn?t like six of us broke away. It just ended up three of us in front and then the other three behind were overtaking guys.
?We won?t be mob-handed like this too often. Perhaps at the Eddie Soens next weekend but after that when the Premier Calendars start we?ll mix it round a bit.
?It?s time for the younger riders to show themselves. We keep calling them that but at 19 or 20 they should start winning races now."
Swipe to scroll horizontally
1. Chris Newton (Rapha Condor Recycling) in 2hr 21min 13sec
2. Dean Downing (Rapha Condor Recycling) at 10sec
3. Graham Briggs (Rapha Condor Recycling) at 15sec
4. Luke Rowe (Rapha Condor Recycling) at 20sec
5. Rob Partridge (Rapha Condor Recycling) at 25sec
6. Simon Holt (Rapha Condor Recycling) at 38sec
7. Andrew Williams (Cwmcarn Paragon RC) at 39sec
8. James Sampson (Kinesis UK)
9. Matt Cronshaw (Kinesis UK) both same time
10. Darren Tiffen (MTS Cycle Sport) at 55sec
RELATED LINKS
Thank you for reading 10 articles this month* Join now for unlimited access
Enjoy your first month for just £1 / $1 / €1
*Read 5 free articles per month without a subscription
Join now for unlimited access
Try first month for just £1 / $1 / €1
Sports journalist Lionel Birnie has written professionally for Sunday Times, Procycling and of course Cycling Weekly. He is also an author, publisher, and co-founder of The Cycling Podcast. His first experience covering the Tour de France came in 1999, and he has presented The Cycling Podcast with Richard Moore and Daniel Friebe since 2013. He founded Peloton Publishing in 2010 and has ghostwritten and published the autobiography of Sean Kelly, as well as a number of other sports icons.