Nicolas Roche's training interrupted by hospital visit after infected spider bite
Team Sky's Nicolas Roche forced to visit hospital in Singapore for treatment after spider bite became infected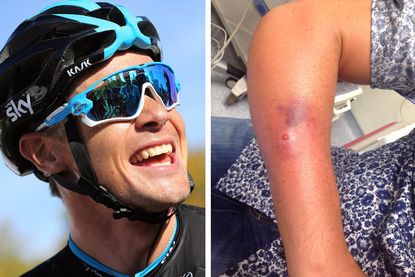 Nicolas Roche has resumed pre-season training in Australia after suffering from an infected spider bite that required treatment in Singapore.
The Team Sky rider was bitten on the arm 10 days ago at the Gold Coast in Queensland where he began preparations for 2016 on the back of a honeymoon in Bora Bora.
The wound became infected when the Irishman travelled to Singapore for a corporate event shortly afterwards.
"When I was in Singapore I had to go to hospital a couple of times to have a look at it and get it taken care of," Roche told Cycling Weekly in a phone interview.
"It was a bit of a scare. My hand blew-up like a balloon and I didn't know what was happening.
"In hospital they were not very encouraging either," he added. "They never tell you how good or how bad it is, they try to stay as neutral as possible, but I think they were as worried as I was."
Roche re-commenced training on Monday following the unwelcome encounter that set him back four days.
The 31-year-old has travelled to Australia on the suggestion of Team Sky head of athlete performance Tim Kerrison, who is originally from nearby Brisbane.
Roche is receptive to warmer climates and a one-month block here, with wife Deborah, worked in nicely with the southern hemisphere honeymoon.
"It's not something that I would do again but I thought that this was the year to do it. Normally I travel so much through the year that I try and stay at home in Monaco [outside of competition]," he said.
>>> Which Team Sky rider rode the furthest in 2015? All is revealed
"I've always wanted to try and do a winter in Australia. It's something different and also, in a way, a good excuse to have a month away from Europe. Even though I'm going out training in the morning, I still feel as though I'm on an extended honeymoon."
Roche has earned the mental reprieve following an involved debut with Team Sky this year. He assisted Richie Porte to multiple stage race titles before aiding Chris Froome to a career second Tour de France victory in July. The former Irish national road champion then capitalised on freedom granted at the Vuelta a España, claiming Sky's only scalp at the race in stage 18.
Roche is yet to determine his 2016 schedule but foresees himself fulfilling a similar role with the British squad.
The climber has also outlined aims at the Rio Olympics where his ability to thrive in the heat and get better throughout the season will be advantageous for the men's hilly road race.
Watch: Top 10 best riders right now
"In the back of my mind it would be great to do the Tour, Olympics and then come back for the Tour of Spain," he said.
"It's usually those three months where I go the best and I just hope I'll be able to make the most of them.
"The Olympics will definitely be one of the big goals for me next year."
Roche will be especially vigilant for spiders as he trains in Australia for another week before reconnecting with Sky team-mates and staff at a December camp.
Thank you for reading 20 articles this month* Join now for unlimited access
Enjoy your first month for just £1 / $1 / €1
*Read 5 free articles per month without a subscription
Join now for unlimited access
Try first month for just £1 / $1 / €1