Omega Pharma-Lotto is the new name for Evans' squad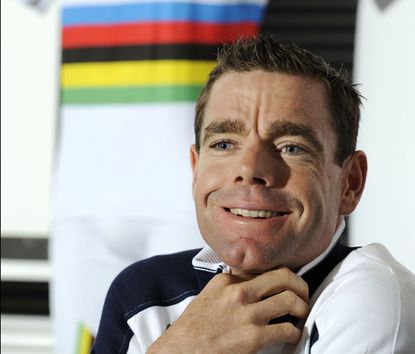 The Silence-Lotto squad of newly-crowned world champion Cadel Evans will be known as the Omega Pharma-Lotto team in 2010.
Omega Pharma is the Belgian pharmaceutical company that produces the Silence anti-snoring treatment that gave the team its name in 2009. Predictor - the name of the team in 2008 - is a pregnancy testing kit also produced by Omega Pharma, and Davitamon is its vitamin brand.
Rather than using one of its product names, the company has now elected to use its own name for the Belgian-registered team.
The new name was unveiled in Nazareth, Belgium, on Thursday with Evans present complete with his world champion's rainbow jersey.
Belgian lottery Lotto remains as co-sponsor of the team.
The squad is currently home to British rider Charly Wegelius.
Cadel Evans was on had to speak to the media during the team's unveiling of its new name in Belgium
Thank you for reading 20 articles this month* Join now for unlimited access
Enjoy your first month for just £1 / $1 / €1
*Read 5 free articles per month without a subscription
Join now for unlimited access
Try first month for just £1 / $1 / €1