Victoria Pendleton: I'd struggle to earn respect working at British Cycling right now
The former Olympian says she'd love to take on a role in the organisation but only in a system she felt comfortable with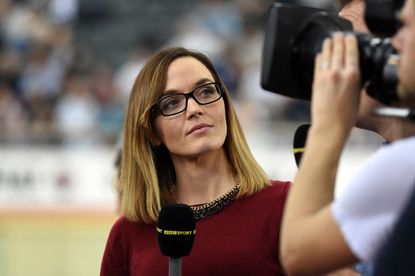 Victoria Pendleton said she'd "love to be involved" at British Cycling if she was asked in the future, however doesn't think she'd be given respect if she was at the organisation as it is currently.
>>> How British Cycling's nightmare week unfolded
The two time Olympic gold medallist retired from racing in 2012 and has since switched to competing in horse racing, and will be working as a pundit for the BBC in Rio this August.
Pendleton has spoken out about the culture she experienced while an athlete on Team GB, in light of allegations of sexism at British Cycling and following Shane Sutton's resignation as technical director last month. An independent review is currently being conducted into a culture of fear and bullying at the organisation.
"I would love to be involved [at British Cycling], of course I would love to be involved," Pendleton told Cycling Weekly at the BBC's launch for the Rio Games in London on Thursday.
"I'd want to be involved with a team and a system that I'd feel comfortable with. I wouldn't be treated as an equal [now]," she continued. "I think I'd struggle to earn the respect."
The 35-year-old recalled a meeting she had with former British Cycling performance director Dave Brailsford when she was an athlete, and he asked her about her future plans in the sport.
Watch: Lizzie Armitstead - Road to Rio
"He asked me 'where do you see yourself in I think five, 10 years time?' And I said 'in your chair Dave' and smiled," she explained. "He thought it was quite funny and I was like 'well what do you want me to say? I've got to aim high' — so I aimed at the top.
"Actually, Shane Sutton came at me after that saying 'well I've stolen your chair now Vic', not in a funny way, when I left the programme. I thought yeah, maybe not yet, maybe in the future."
The former track cyclist said she did not believe the scrutiny BC is currently under will be having an impact on the riders' preparations for Rio.
"As an athlete you're so focussed on what you do, you're so determined and driven with your own personal goals I don't think it would really make a difference," she said.
The BBC is bringing extensive coverage of the 2016 Summer Olympics live from Rio. Beginning August 5th across TV, radio and on the BBC Sport website.
Thank you for reading 10 articles this month* Join now for unlimited access
Enjoy your first month for just £1 / $1 / €1
*Read 5 free articles per month without a subscription
Join now for unlimited access
Try first month for just £1 / $1 / €1