Police name 'main suspect' after driver of 'stolen' black Audi accelerated at cyclists
Shane Seymour has links in South London and the Canterbury area - police say not to approach him, but call 999 straight away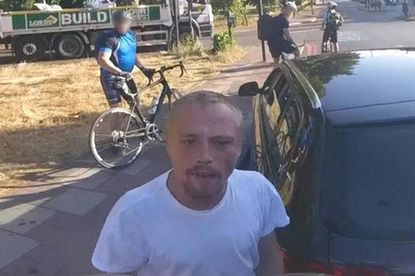 (Image credit: Picasa)
Police have named a man they want to speak to following footage of a driver swerving at cyclists, and using what he claimed was a 'stolen car' as a weapon.
The Metropolitan Police have provided images of their "main suspect" - Shane Seymour.
Officers say that he has links in South London and the Canterbury area - they advise that members of the public do not approach him, but call 999 instead.
The image released was taken from helmet camera footage taken at the time of the incident, which took place in Clapham, South London, on Wednesday August 1.
The man was driving a black Audi on the A24 at Clapham. He swerved into a cycle lane, before driving into a residential road, and reversing the vehicle into the cycle lane.
Footage captured at the time then shows the man driving at cyclists, shouting: "it's a stolen car, I'll run you lot over."
When police arrived, he reversed away "at speed."
On releasing the image, Detective Constable James Preston from Brixton CID, said: "We have been working hard to investigate this incident since first becoming aware of it on Wednesday August 1 – and have issued an image of our main suspect.
"Today we are naming this man as Shane Seymour. He is known to have links to South London and the Canterbury area.
"Have you seen him, or do you know where he is? Please contact us or Crimestoppers if so as we urgently need to speak to him in relation to this matter. If any members of the public spot him, do not approach him but call 999 straight away."
Shortly after the incident, Det Con James Preston said: "Luckily no-one was seriously injured or even killed by this reckless driver."
The cyclist almost hit in the first instance was IT consultant, Dave Clifton.
The 50-year-old later told the BBC: "It's worrying having drivers on the road like that."
"It's all just really bizarre. I don't know if he's just having a bad morning or what. He seems to be picking on everybody.
Officers are attempting to trace the driver, and Det Con Preston said: "[we] urge anyone who recognises him to contact the police as soon as possible."
Anyone with any information is asked to call police on 101 and quote CAD 1581/1Aug. Alternatively, contact Crimestoppers anonymously on 0800 555 111.
Thank you for reading 20 articles this month* Join now for unlimited access
Enjoy your first month for just £1 / $1 / €1
*Read 5 free articles per month without a subscription
Join now for unlimited access
Try first month for just £1 / $1 / €1