RadioShack gets Tour of Lombardy ride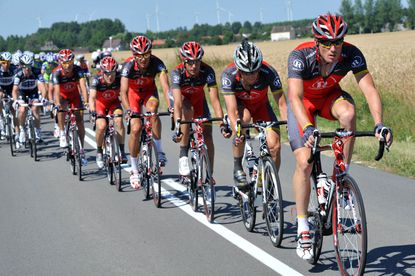 Race organiser RCS Sport avoided a court case and has created space for Lance Armstrong's RadioShack team at the Tour of Lombardy on October 16 in Italy.
"RCS Sport has got the green light by the Presidents of UCI and CUPT," it said in a press release today, "to bring 26 teams ... without breaking through the roof of the 200 riders overall."
Most of the 26 participating teams will race with eight riders, but four smaller teams will race with six riders to make space for RadioShack.
The American first division team announced on Friday that it had asked the Court of Arbitration for Sport (CAS) to review the decision by RCS Sport. It said in a press release that it wanted to seek "compensation for damages due to the nonfulfillment of the contract between Team RadioShack and RCS Sport."
According to RadioShack, the team had agreed in January that it would race the Tour of Lombardy. RadioShack opted out early of the Giro d'Italia in favour of the Tour of California, and did not receive an invitation to RCS Sport's spring races, the Strade Bianche one-day race and the Tirreno-Adriatico stage race.
RCS Sport's race director, Angelo Zomegnan allowed RadioShack to compete in the Milan-San Remo because the team intended to bring Lance Armstrong. Armstrong, though, changed his plans because he suffered from gastroenteritis at the time and sent Japan's Fumiyuki Beppu in his place.
Zomegnan ignored the team for RCS Sport's final two races of the season: the Tour of Piedmont (October 14) and the Tour of Lombardy (October 16). He preferred to allow some smaller Italian teams - like ISD, Colnago and CarmioOro - to race than making them race abroad.
RCS Sport scrambled at a last minute meeting yesterday afternoon at its offices in Milan to make space and to avoid the CAS. Regardless, RadioShack will not race the Tour of Piedmont.
RadioShack is anxious to race this autumn as the Vuelta a España organiser left the team out of its race. Team Manager Johan Bruyneel argued against the Vuelta's decision, but the team still was left home.
Zomegnan may have ill feelings towards Bruyneel and Armstrong, who many saw as behind the riders' protest last year when the Giro d'Italia visited Milan. The riders acted to annul part of the stage due to unsafe racing conditions. Riders raced the last circuit, Mark Cavendish won the sprint and the classification battle was annulled.
Related link
RadioShack turn to CAS having been snubbed by Tour of Lombardy
Thank you for reading 20 articles this month* Join now for unlimited access
Enjoy your first month for just £1 / $1 / €1
*Read 5 free articles per month without a subscription
Join now for unlimited access
Try first month for just £1 / $1 / €1