RAPHA-CONDOR SOAKING UP THE SPANISH SUN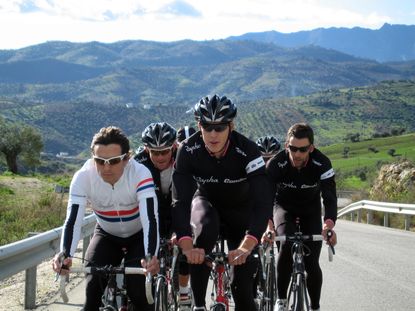 The Rapha-Condor team is enjoying the Spanish sunshine this week as they continue their pre-season build-up near Malaga.
It's the team's second week-long training camp this winter. "I prefer doing week long camps, or ten days maximum," team boss John Herety said. "Any longer than that and you have to have days off to recover."
The whole squad is in Malaga, with the exception of Chris Newton who is in Majorca with the GB squad, and Darren Lapthorne who is still in Australia sorting out his visa, preparing for their first races of 2009 in South Africa.
"Tom Southam and Kristian House are both going well already as they raced at the Australian champs," said Herety. "They're going noticeably better so they'll be pressing on and will be looking to do something in South Africa."
Rapha-Condor will ride the four-day Tour of Boland and then the Giro del Capo that starts on March fourth. " We can't just go to events for the experience anymore, we've got to go there and do something," Herety said.
Southam and House will be joined by Namibian champion Dan Craven, Simon Richardson (formerly of Plowman Craven), Lapthorne and Chris Newton.
"Dan should get to wear the leaders' jersey for the UCI Africa Tour as he currently leads the standing. It's one of several jerseys he could wear; he's also the Namibian champion and the African champion."
The team will return to Malaga for their final training camp on February 14 where they will be joined by members of the Rapha-Condor club and shoot the clothing catalogue.
The team's first race in the UK will be the Bikeline two-day on March 14-15.
Dean Downing (on left) leads the team on a four hour training ride. Picture courtesy of Rapha-Condor.
RELATED LINKS
Rapha-Condor looking for success at home and away
Thank you for reading 10 articles this month* Join now for unlimited access
Enjoy your first month for just £1 / $1 / €1
*Read 5 free articles per month without a subscription
Join now for unlimited access
Try first month for just £1 / $1 / €1