RICCO CALLS FOR ITALIAN ALLIANCE TO TOPPLE CONTADOR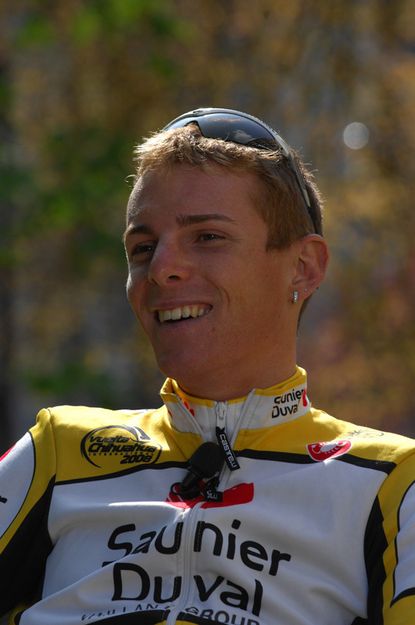 Riccardo Ricco (Saunier Duval) lost more precious seconds to Alberto Contador in Monday?s Plan de Corones time trial but true to character, he refuses to concede defeat.
He needs at least a minute, if not more, to be able beat the Spaniard in Sunday?s final 28.5km time trial to Milan but insists he can gain time at Monte Pora on Friday and perhaps crack Contador on the climbs of the legendary Passo Gavia and the steep Mortirolo on Saturday.
Ricco is 41 seconds behind Contador after losing eight seconds in the time trial. He lost 1-56 in the first time trial to Urbino but has gained some precious seconds in the mountain stages in the Dolomites.
?I still believe I can win this Giro d?Italia. I believe it with all my heart but also with my head,? Ricco said during the second rest day on Tuesday after a four-hour drive from the Dolomites to Sondrio.
?I?m 40 seconds behind Contador but there are still lots of opportunities to pull back time. There?s the climb of the Mortirolo during stage 20 and especially the mountain top finish at Monte Pora on stage 19. I?m going to give it everything on those last two mountain stages and then we?ll see how things stand.?
?Perhaps I can ambush Contador on the Mortirolo with Simoni. He?s looking good and getting better all the time and I know he won?t finish his last Giro without at least trying to topple Contador.?
?I showed I?m the strongest in the three mountain stages even if I didn?t gain a lot time. Obviously if Contador keeps riding well it won?t be easy to beat him, we shouldn?t forget he won the Tour de France.?
?A lot of people are saying I?ll need a two-minute advantage on Contador before the time trial if I want to win but even with less of an advantage I think I?ve got a chance.?
?If I hadn?t lost time in the opening team time trial (Saunier Duval finished 34 seconds behind Astana) and when I crashed in the individual time trial, I?d probably be in the pink jersey now.?
?If I start the final time trial wearing the leader?s pink jersey, Contador would have to ride the time trial of his life to take it off me. I?ll be giving it one thousand percent.?
?I?d rather lose by two minutes and have tried everything rather than have regrets. I?m going to go for broke.?
GIRO D'ITALIA 2008: STAGE REPORTS
Stage 16: Pellizotti wins mountain time trial
Stage 15: Sella strikes again in the mountains
Stage 14: Sella wins first Giro mountains stage
Stage 13: Easy victory for super-fast Cavendish
Stage 12: Bennati gets photo finish verdict over Cavendish
Stage 11: Bertolini wins hilly stage
Stage 10: Bruseghin wins Giro d'Italia time trial
Stage nine: Cavendish misses out in sprint
Stage eight: Ricco wins again
Stage seven: Di Luca, Ricco and Contador gain time on rivals
Stage six: Italians clean upStage five: Millar denied by snapped chain
Stage four: Cavendish wins
Stage three: Bennati romps home
Stage two: Ricco wins Giro d'Italia second stage
Stage one TTT: Slipstream wins Giro team time trial
GIRO D'ITALIA 2008: NEWS
Six Brits finish mountain time trial [stage 16]
Cavendish disappointed after missing out in Giro sprint
Can Cavendish win the Giro today? [stage 12]
Aggressive Cummings comes away empty handed [stage six]
Millar speaks out after missing out in Giro [stage five]
Reaction to Cavendish's Giro stage win
Cav hits back at Pozzato's snipe
Cavendish: This is my biggest win [stage four]
Millar celebrates Slipstream Giro d'Italia success
Bettini looking for final Giro glory
Astana's troubled build-up to the Giro
Petacchi banned for Salbutamol positive
Yates and Astana make last minute rush to Giro
GIRO D'ITALIA 2008: PHOTOS
Giro d'Italia 2008: Photo gallery, week two - new photos added daily
Giro d'Italia 2008: Photo gallery, week one.
GIRO D'ITALIA 2008: FEATURES
Five days to go, what's in store?
Giro d'Italia 2008: Rest day review (May 27)
Cycling Weekly's all-time list of British pro winners
Giro d'Italia 2008: Rest day review (May 19)
Rest day 1: How the favourites are doing
Giro Britannia part two: From rule Britannia to cruel Britannia
Tuesday Comment (May 13): Why Cavendish is a bona fide world-class star
Giro Britannia: how the Brits are doing in Italy
Giro d'Italia 2008 preview
Giro d'Italia 2008: who will win?
Giro d'Italia 2008: The British are coming
Giro d'Italia on Eurosport: TV schedule
Thank you for reading 20 articles this month* Join now for unlimited access
Enjoy your first month for just £1 / $1 / €1
*Read 5 free articles per month without a subscription
Join now for unlimited access
Try first month for just £1 / $1 / €1