Riccò joins Quick Step to return to ProTour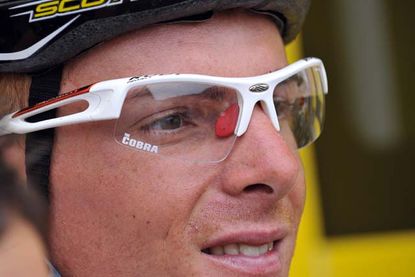 Italian Riccardo Riccò will return to top-level racing for the first time since leaving the Tour de France in 2008 for doping. Yesterday, he signed a contract with Belgian team Quick Step after he officially annulled his contract with team Ceramica Flaminia.
"We've done it. It was difficult, but finally I have returned to top cycling," Riccò told La Gazzetta dello Sport.
"I signed a contract with Quick Step through 2011 and I am convinced I have made the right decision. [Patrick] Lefevere's team is amongst the top three to four teams in the world and I am able to return to the top level races."
Riccò jumps from second division Italian team, Ceramica Flaminia, to first division, ProTour team Quick Step. He agreed to pay Ceramica Flaminia €75,000 to end his contract one year early and raced his last race in the team's jersey on Saturday at the GP Camaiore.
This year, he won a stage at Settimana Lombarda, a stage at Giro del Trentino, and two stages and the overall Tour of Austria.
His decision to leave the Italian team came after it failed to receive an invite to race the Giro d'Italia. The team may race the Giro d'Italia in 2011, but it would have very little chance to race the Vuelta a España and almost no chance to race the Tour de France.
He last raced at the ProTour level with team Saunier Duval, from 2006 to 2008. He won three stages of the Giro d'Italia and in 2008, finished second behind Alberto Contador.
At the Tour de France two months later he tested positive for blood booster EPO-CERA. The French anti-doping agency (AFLD) only announced the result on July 17, after he had won two stages (Super-Besse and Bagnères-de-Bigorre). He subsequently lost his stage wins and served a 20-month suspension.
With Quick Step, he has a chance to return to Grand Tours, as with the Tour de France and, starting in two weeks, the Vuelta a España. However, the Vuelta organiser has already released the team's riders and reserves, which was without 26-year-old Riccò.
"I would really like to be at the Vuelta. It would be good for me and the team," Riccò said. "I would not go for the classification, but I could do well in a few stages."
He joins other top cyclists who have made a return to first division teams following a doping suspension. Ivan Basso and Alexander Vinokourov both returned to this year's Tour de France - Basso was part of the 2006 Operación Puerto investigation and Vinokourov was caught blood doping at the 2007 Tour de France.
Quick Step's team manager, Patrick Lefevere, said early this week that he sees no difference in signing Riccò versus Basso. He had signed Stefano Schumacher for 2009 season, but annulled the contract when tests reveled he doped with EPO-CERA at the 2008 Tour de France.
Top Italian teams Liquigas-Doimo and Lampre-Farnese were uninterested in signing Riccò, but Dutch team Vacansoleil and Spanish team Caisse d'Epargne had negotiated with him.
RELATED LINKS
Ricco leaves Flaminia and plans for Tour de France return
Ricco's partner Rossi tests positive for EPO
Ricco admits taking EPO
Ricco positive for EPO at 2008 Tour de France
Thank you for reading 20 articles this month* Join now for unlimited access
Enjoy your first month for just £1 / $1 / €1
*Read 5 free articles per month without a subscription
Join now for unlimited access
Try first month for just £1 / $1 / €1