RICCO POSITIVE FOR EPO AT TOUR DE FRANCE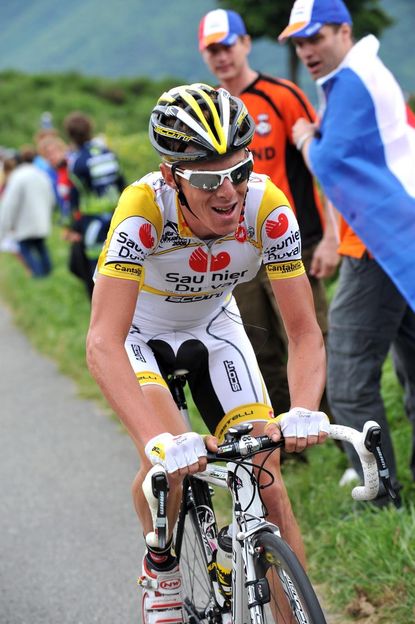 (Image credit: WATSON)
The Equipe website (www.equipe.fr) has announced that Riccardo Ricco (Saunier Duval) has tested positive for the third generation of EPO called Cera.
The news was confirmed by the Italian newspaper Gazzetta dello Sport and other sources.
According to Italian website tuttobiciweb.it, Ricco was taken away by French police at the start of stage 13 and none of the other Saunier Duval riders started the stage at one o'clock.
According to Equipe Ricco was positive in two tests taken on July 3 and 4 before the start of the Tour de France in Brest. However Pierre Bordry, the head of the AFLD, said Ricco was positive after a targeted test done after the stage four Cholet time trial.
Ricco won stages of the Tour in spectacular style at Super-Besse and at Bagneres de Bigorre in the Pyrenees. He was also leading the best climber and best young rider competitions.
Like other riders, Ricco was tested several times during the first week of the Tour by the French anti-doping controllers but the cocky Italian always seemed unworried about the extra attention.
CERA: THE THIRD GENERATION EPO
Cera is a new kind of EPO that requires fewer injections because it is a slow release form of the blood boosting drug. Riders may have taken it because they believed the EPO urine test carried out in Lausanne was unable to detect it but Ricco?s positive seems to have destroyed that theory.
more later.
Swipe to scroll horizontally
TOUR DE FRANCE 2008: STAGE REPORTS
Stage 11: Arvesen wins
Stage 10: Evans takes yellow jersey by one second
Stage nine: Ricco wins in the Pyrenees
Stage eight: Cavendish wins again in Toulouse
Stage seven: Sanchez takes action-packed stage
Stage six: Ricco storms to win
Stage five: Cavendish takes first Tour win
Stage four: Schumacher wins TT and takes race lead
Stage three: Dumoulin wins stage from break
Stage two: Hushovd wins chaotic sprint
Stage one: Valverde wins
Swipe to scroll horizontally
TOUR DE FRANCE 2008: NEWS
Analysis: Tour de France rest day summary
Cavendish battles through Pyrenees
Evans suffers but takes yellow jersey [stage 10]
Analysis: Hautacam shakes up 2008 Tour
Ricco silences critics with solo attack in Pyrenees [stage nine]
Cavendish talks about his second stage win [stage eight]
Beltran heads home but doubts remain about other Tour riders
David Millar: the dope controls are working
Manuel Neltran tests positive for EPO at the Tour
Comment: How the Tour rediscovered its spirit
Doping back in Tour de France headlines
Millar: close but no cigar in Super-Besse [stage six]
Super-Besse shows form of main contenders [stage six]
Millar to go for yellow [stage six]
Team Columbia's reaction to Cavendish's win [stage five]
Cavendish talks about his Tour stage win
Tour comment: Why Evans should be happy [stage four]
Millar: Still aiming for Tour yellow jersey [stage 4]
Who is Romain Feillu?
Cavendish disappointed with stage two result
Millar too close to Tour yellow jersey
Stage 2 preview: A sprint finish for Cavendish?
Millar happy after gains precious seconds in Plumelec
Valverde delighted with opening Tour stage win
Comment: Is Valverde's win a good thing for the Tour?
Swipe to scroll horizontally
TOUR DE FRANCE 2008: PHOTOS
Swipe to scroll horizontally
TOUR DE FRANCE 2008: BLOGS
Life at the Tour part three
Life at the Tour part two
Life at the Tour part one
Swipe to scroll horizontally
TOUR DE FRANCE 2008: GUIDE
Tour de France 2008 homepage>>
News and features>>
All the riders (start list, list of abandons)>>
Day by day summary>>
Route & stages>>
Teams and riders>>
About the Tour>>
Thank you for reading 20 articles this month* Join now for unlimited access
Enjoy your first month for just £1 / $1 / €1
*Read 5 free articles per month without a subscription
Join now for unlimited access
Try first month for just £1 / $1 / €1