Riis will break Cancellara's Saxo Bank contract for €3m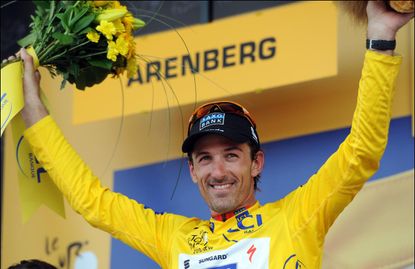 Saxo Bank team manager, Bjarne Riis is ready to free classics star Fabian Cancellara, but at a cost that will prohibit all but the richest teams. According to French newspaper L'Equipe, Riis wants €3 million for breaking Cancellara's contract one year early.
Team Sky faced a similar situation last year when it paid team Garmin an estimated €1.33 million (£1.1m) to break Bradley Wiggins' contract one year early. The British team is one of several teams that may be interested in signing Cancellara.
Cancellara's popularity comes thanks to his wins. This year alone, the 29-year-old Swiss won the Tour of Oman, E3 Prijs Vlaanderen, the Tour of Flanders, Paris-Roubaix, the Tour de Suisse's prologue, and two stages at the Tour de France. In addition to the wins, he helped team-mate Andy Schleck finish second overall at the Tour de France.
Schleck's new Luxembourg-based team run by Sky's former press officer, Brian Nygaard, is first in line along with BMC Racing to sign Cancellara. Both teams need Cancellara's UCI points to help their push for a first division, ProTour licence. Both teams also have their positives: Luxembourg offers familiar faces - Andy and Fränk Schleck, Nygaard, Kim Andersen and likely signees Jakob Fuglsang, Jens Voigt and Stuart O'Grady - and BMC Racing is based in Cancellara's home country.
If not Great Britain, Switzerland or Luxembourg, Cancellara may find a home in Russia. First division team Katusha is also interested in signing Cancellara.
On Monday, Cancellara confirmed interest from other teams and the possibility of leaving Saxo Bank after five years.
"It is an open secret that other teams are interested in me," Cancellara said on his personal website. "I have to say, some interesting suggestions have been made, which would also offer me long-term opportunities for the future, beyond cycling."
Cancellara's opportunities are thanks to Riis's recent change of view. Two weeks ago, he told Denmark's BT, "Try to listen, he has a contract."
The newspaper asked, "Can he buy his freedom?"
Riis said, "No, he can not."
Now, Riis may be on the hunt for money to support his team. He will pay three-time Tour de France winner, Alberto Contador an estimated €9 million over the next two years to ride with Saxo Bank. Andy and Fränk will free some of Riis's budget when they leave to Nygaard's team at year-end and the rest may come from Cancellara.
Cancellara's agent, IMG's Rolf Huser, has not commented on Cancellara's possible departure. Cancellara said that he and Riis will speak more during the ongoing Vuelta a España stage race in Spain.
Fabian Cancellara: major wins
Tour de France (7 stages)
Vuelta a España (3 stages)
Tour de Suisse (2009)
Paris-Roubaix (2006, 2010)
Milan-San Remo (2008)
Tour of Flanders (2010)
Time Trial World Championship (2006, 2007, 2009)
Related links
Schlecks' Luxembourg team evolves; Cancellara's future uncertain
Thank you for reading 5 articles this month* Join now for unlimited access
Enjoy your first month for just £1 / $1 / €1
*Read 5 free articles per month without a subscription
Join now for unlimited access
Try first month for just £1 / $1 / €1