San Jose cycling community mourns the death of rider on Mount Hamilton
Cyclist dies on same descent that Toms Skujins had crashed on hours earlier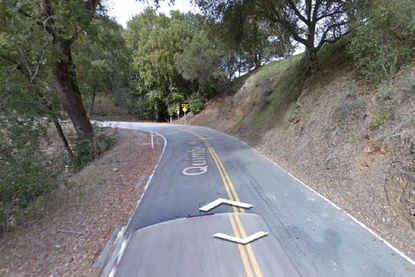 (Image credit: Google)
Ever Portillo, 41, of San Jose, was killed in a crash Monday evening while cycling down Mount Hamilton.
Only hours earlier riders from the Tour of California riders came racing down the same road, with rider Toms Skujins crashing on the same descent.
The accident was reported at approximately 5:25pm near the intersection of Mount Hamilton Road and Quimby Roads, according to California Highway Patrol officer Damian Cistaro. The investigation is still underway, but CHP authorities believe that Portillo was trying to avoid a Cal Fire Truck ascending the technical road at the time of the crash.
Portillo was pronounced dead by the Santa Clara County Medical Examiner-Coroner's Office after being transported to an area hospital.
>>> Cyclist shot while out on a group ride in New Orleans
Officers said Portillo was riding with another cyclist descending eastbound on Quimby Road and travelling at approximately 20mph when they encountered a fire truck on a right-hand curve in the road. Portillo lost control of his bike when trying to avoid the westbound travelling fire truck and went flying over the handlebars, landing on his head.
"It does not appear that there was a collision between the bike and the truck," CHP Officer Ross Lee told the San Jose Mercury News.
The Executive Director of the Silicon Valley Bicycle Coalition, Shiloh Ballard, knew Portillo well and remembers him as strong mountain biker and extremely kind person.
"He was just an upstanding guy," Ballard said. "He liked having a good time, enjoying the outdoors and enjoying life."
Officers are still collecting details of the accident and anyone with more information is asked to contact the San Jose CHP field area field office at 408-467-5400.
Thank you for reading 20 articles this month* Join now for unlimited access
Enjoy your first month for just £1 / $1 / €1
*Read 5 free articles per month without a subscription
Join now for unlimited access
Try first month for just £1 / $1 / €1