Sir Chris Hoy: 'We need to emphasise the positives of cycling to get people on their bikes'
Britain's joint greatest-ever Olympian Sir Chris Hoy believes that while there is still work to be done to make roads safer for cyclists, people should not be put off getting on their bikes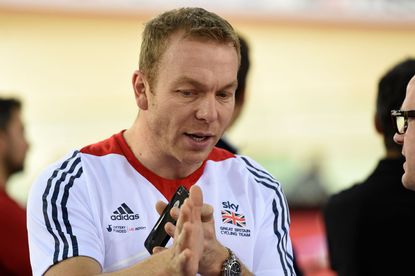 Get The Leadout Newsletter
The latest race content, interviews, features, reviews and expert buying guides, direct to your inbox!
Thank you for signing up to The Pick. You will receive a verification email shortly.
There was a problem. Please refresh the page and try again.
Sir Chris Hoy believes road cycling is still a safe activity despite a number of incidents involving high profile and amateur riders in collisions with motor vehicles on UK and European roads this year.
The six-time Olympic gold medallist explained that while there is still "more that can be done" to make the roads safer for cyclists, people should not stop getting on bikes.
>>> New barriers on a London bridge reduce space in cycle lane
Hoy was speaking ahead of the first HSBC UK City Ride this weekend in Birmingham – a series of 14, traffic-free, mass participation rides in cities across Britain this summer.
Earlier this year Astana rider Michele Scarponi was killed after a collision with a van while out on a training ride near his home in Italy, while Chris Froome claimed he was "rammed on purpose" by a driver with his bike left severely damaged when riding in Monaco, with both incidents making news headlines around the world.
While last week 16-year-old time triallist Joe Guy was killed after a collision with a van while out training near Wolverhampton.
"I definitely don't want to play down the tragic events that have happened over the last few years. But at the same time the positive sides of cycling are so important and so far reaching we need to emphasise those," Hoy told Cycling Weekly.
He stressed that it was hard to know whether the number of incidents between cyclists and motor vehicles on the roads was increasing, because there are significantly more people cycling now than there have been in previous years.
"[Cycling's] becoming so popular now the number of people that are riding bikes it's inevitable that you will get a few but they do tend to make the headlines. It's still a relatively safe activity," he said.
"It could obviously be a lot safer; you look at city's or countries around Europe – Denmark, Holland, Germany – they've had bikes at the centre of their transportation for decades, generations, they're used to bikes being around, there's the right provisions for them, people are used to seeing them, other road users are used to being around them and it takes time.
"Cycling has grown so quickly it's really exploded in the UK and it takes time for this change to take place. It's awful when you hear these stories and see these headlines but on the whole I think we're heading in the right direction.
"There's always more that can be done, definitely the roads can be safer, and the road users can be better educated."
Watch: How to ride at night
As well as allowing people to cycle on roads away from the traffic, the aim of the City Rides is to inspire more people to get on their bikes with the hope of having two million people riding by 2020.
"That's the one thing we don't want parents to absorb the information that cycling equals danger and therefore I don't want my child to ride their bikes," Hoy continued.
"These types of activities – the City Rides – are great, you can bring the whole family down in a safe environment, get your confidence amongst other cyclists too and remind yourself how much fun it is to ride your bike."
Hoy retired from professional cycling in 2012 after the London Olympics but still cycles regularly on the road. He stressed that while there is a risk with cycling, the health benefits you can get from riding are vital and that there are things riders can do to help stay safe on the road.
"In many ways the faster you ride the safer it is, if you can ride along at the same pace as the flow of traffic it's better, but you don't have to go flat out to be safe in traffic," Hoy explained.
"It's almost [that you have to be] looking for danger, riding defensively, always covering your brakes, always looking for people sitting on the side of the car that they could potentially open doors in front of you.
"It doesn't matter how experienced you are, how vigilant you are, there are things that can happen outward your control and that's the scary thing.
"I'm not going to portray it as some super safe, nothing to worry about activity, yes there are dangers but there are dangers everywhere you look in life," Hoy continued, before pointing to the vast health benefits cycling offers.
"The health benefits of cycling are so far reaching that to be put off for fear of hurting yourself, in many ways if you don't cycle and aren't active you're going to harm yourself through ill health in the long run."
The first City Ride takes place this Sunday June 11 in Birmingham, with the series ending in Liverpool on September 24. The full roster of events is listed below:
Birmingham – 11 June
Nottingham – 18 June
Southampton - 25 June
Newcastle – 2 July
Sheffield – 16 July
Manchester – 23 July
Cardiff – 6 August
Leicester – 13 August
Bristol – 20 August
Glasgow – 27 August
Edinburgh – 3 September
Leeds – 10 September
Coventry – 17 September
Liverpool – 24 September
Thank you for reading 20 articles this month* Join now for unlimited access
Enjoy your first month for just £1 / $1 / €1
*Read 5 free articles per month without a subscription
Join now for unlimited access
Try first month for just £1 / $1 / €1
Get The Leadout Newsletter
The latest race content, interviews, features, reviews and expert buying guides, direct to your inbox!