Team Sky doctor prevented Richard Freeman from applying for a fourth Bradley Wiggins TUE
Team Sky doctor Alan Farrell changed the password to the system where doctors request TUEs; Dr Richard Freeman was intending to apply for a TUE for Bradley Wiggins before the 2013 Tour of Britain.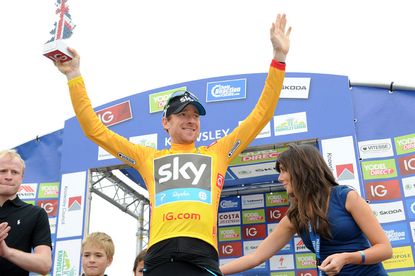 A Team Sky doctor prevented Dr Richard Freeman from applying for a fourth therapeutic exemption order (TUE) for Bradley Wiggins, just days before the 2013 Tour of Britain, a race he won.
It is reported in today's Sunday Times that Alan Farrell, another doctor at Sky, changed the team's password for the World Anti-Doping Agency's ADAMS (anti-doping administration and management system) - the program where doctors formally request a TUE - after hearing that Freeman was wanting to apply for a Wiggins TUE before the national tour; it is not known what substance Freeman was hoping to be permitted to give Wiggins.
A new password for ADAMS is required every six months, and three days before the Tour of Britain, Farrell changed Sky's, without informing Freeman. Farrell explained why he refused to notify Freeman of the password to fellow doctor Richard Usher, who was Sky's medic at the upcoming race. Usher was supportive of Farrell's actions.
>>> Everything you need to know about the British Cycling/Sky mystery package saga
In the latest revelation surrounding an investigation that is increasingly becoming focused on the circumspect practises of Freeman, The Sunday Times' David Walsh also reveals:
Freeman took delivery of an unknown quantity of banned testosterone patches in 2011. He has informed the UK Anti-Doping authorities that they were not intended for any British Cycling or Sky riders and that they were returned, claiming that the delivery was an administrative error.
Other doctors at Team Sky disapproved of Wiggins being granted three TUEs to take triamcinolone before the 2011 and 2012 Tour de Frances and 2013 Giro d'Italia. They believed that it was at odds with the team's ethical standards.
60 and 70 vials of triamcinolone were delivered to British Cycling's Manchester headquarters in 2011, each containing 40mg.
The three other doctors at Sky in 2011 - Steve Baynes, Phil Riley and Usher - were not consulted on Wiggins' TUE before that year's Giro, and didn't find out that one had been administrated until some time later.
Farrell was apparently unhappy with the lack of communication between Freeman and his colleagues. Sir Dave Brailsford, the team's principal, was aware of the tension, but Freeman continued to look after Wiggins.
Not long after the 2013 Tour of Britain, Sky introduced a new policy whereby a TUE had to be signed off by two or more doctors.
>>> British Cycling acknowledges 'serious failings' over medical package, while Sky deny wrongdoing
These revelations increase the pressure on Freeman, whose actions have come under intense scrutiny.
Dr Steve Peters, a BC doctor, told the Sunday Times about the delivery of testosterone patches. "I was with a colleague when the order arrived and it was immediately brought to our attention. Dr Freeman, who was responsible for ordering medical supplies, explained that the order had never been placed and so must have been sent in error," he said.
"He contacted the supplier by phone the same day and they confirmed this. I asked Dr Freeman to repack and return it to the supplier, and to make sure they provided written confirmation that it was sent in error and had been received.
"That confirmation arrived and was shown to me by Dr Freeman. I was satisfied that this was simply an administrative error and it wasn't necessary to escalate it further, and so Dave Brailsford was not made aware."
After UKAD's Nicole Sapstead told a Culture, Media and Sport Select Committee last week that the amount of triamcinolone delivered far exceeded what one rider would require, Freeman told UKAD that he treated other staff with the drug.
Brailsford has said that he was given triamcinolone in 2008 to treat a knee injury, while GB coach Keith Lambert has also admitted to being given the drug.
Freeman was due to appear at the Parliament Select Committee last week but didn't, citing illness. It is reported elsewhere that he declined to give evidence via video link.
Thank you for reading 20 articles this month* Join now for unlimited access
Enjoy your first month for just £1 / $1 / €1
*Read 5 free articles per month without a subscription
Join now for unlimited access
Try first month for just £1 / $1 / €1