Investigation finds that there is 'no paper trail' for Sky's jiffy bag contents
UK Anti-Doping chief executive tells a government select committee that there are no medical records to confirm the contents of the package - Bradley Wiggins told UKAD that he received Fluimucil during the 2011 Critérium du Dauphiné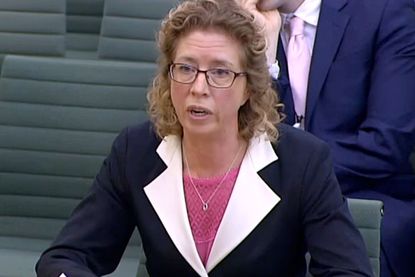 (Image credit: ParliamentLive.TV)
A UK Anti-Doping investigation into the 'mystery package' delivered to Team Sky during the 2011 Critérium du Dauphiné has failed to confirm or refute that it contained the medicine Fluimucil.
UKAD chief executive Nicole Sapstead appeared before the Culture, Media and Sport Committee on Wednesday to provide evidence in its on-going investigation into doping in sport.
Wednesday's proceedings largely centred on the contents of a jiffy bag transported by former British Cycling employee Simon Cope from British Cycling's HQ in Manchester to the Critérium du Dauphiné in France during 2011.
The package was delivered to former Team Sky medic Dr Richard Freeman at the 2011 Dauphiné on June 12 under the instruction of former technical director Shane Sutton.
>>> Simon Cope denies that he knew the contents of Team Sky's 'mystery package'
Sapstead said that Freeman had told UKAD during its investigation that it contained decongestant medicine Fluimucil destined for administration to Bradley Wiggins. Wiggins went on to win the race for Team Sky.
In December, Team Sky principal Dave Brailsford told an earlier session of the CMS Committee that the jiffy bag was used to transport Fluimucil.
Sapstead told the inquiry that the UKAD investigation into BC and Team Sky revealed that there was no paper trail or medical evidence to support that the package contained Fluimucil.
"We cannot ascertain what was in the package," Sapstead told MPs during the proceedings.
"Team Sky did have a policy of keeping records, just not everyone was adhering to it."
According to Sapstead, a laptop computer belonging to Freeman and containing medical records was stolen from him while he was on holiday in Greece during 2014.
Sapstead said that they had spoken to Wiggins as part of the investigation. He confirmed that he was treated with Fluimucil on the evening in question, but could not confirm that was what was in the package.
BC physiotherapist Phil Burt, who had originally assembled the package in Manchester, told UKAD that he had "no recollection" of what he put in it.
Although Freeman was not present at the hearing, he is likely to still have to answers questions set by MPs and may have to appear in front of the committee at a later date.
Damian Collins MP, who chairs the CMS Committee, told the BBC after the hearing: "The credibility of Team Sky and British Cycling is in tatters. They are in a terrible position.
"The question at the heart of this is how can you say British Cycling is the cleanest and most ethical (cycling federation) in the world when there are no records to substantiate the drugs being given to one of our leading cyclists?"
Thank you for reading 20 articles this month* Join now for unlimited access
Enjoy your first month for just £1 / $1 / €1
*Read 5 free articles per month without a subscription
Join now for unlimited access
Try first month for just £1 / $1 / €1