Simon Cope denies that he knew the contents of Team Sky's 'mystery package'
Former British Cycling employee Simon Cope says that he did not know what was in the package that he took from Manchester to the Critérium du Dauphiné in 2011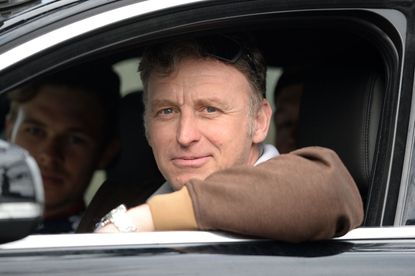 Simon Cope, the former British Cycling employee responsible for transporting a jiffy bag from Manchester to Team Sky at the 2011 Critérium du Dauphiné, says that he was not aware of what was in the package.
Cope appeared on Wednesday in front of an on-going Culture, Media and Sport Committee inquiry into Combatting Doping in Sport. He was extensively quizzed about how he received the so-called 'mystery package', how he travelled with it, who he gave it to and whether he knew anything about the contents.
Cope's appearance at in front of the panel comes after an appearance by Team Sky principal Dave Brailsford in December, who said that the package contained the medicine fluimucil, destined for Bradley Wiggins at the Dauphiné on June 12, 2011. Wiggins went on to win the race.
Cope said that his knowledge of exact events could not be recalled precisely as they took place over five years ago.
Cope confirmed that he picked up the package at British Cycling's head office in Manchester on June 8, remarking that it was left on his desk with a Post-It note saying it was to be delivered to former Team Sky medic Dr Richard Freeman.
When asked whether he knew what was in the package, Cope on several occasions said that he did not, and did not question his colleagues as to what was in the package.
>>> The more we discover about the package, the more questions seem to be thrown up'
"I probably should have asked what was in the package, but at the time I didn't think anything was untoward," Cope told the committee. He stated that he had no reason to suspect that it was anything untoward, saying he had no reason to "question the integrity of our governing body".
A part of the inquiry focussed on why Cope took a package on board a plane without knowledge of what it was.
Jason McCartney MP asked Cope whether he would have been asked by airport officials whether he had packed the bags himself when checking them in as hold luggage.
"Yes," replied Cope. To which, McCartney said that it sounded as though Cope had "deliberately misled" airport staff.
Chris Matheson MP suggested towards the end of the session with Cope that he had "been stitched up, left out to dangle by your former colleagues". When asked whether he thought his reputation had been damaged, Cope simply said "potentially, yes".
After Cope gave evidence to the committee, Chief Executive of UK Anti-Doping, Nicole Sapstead, then appeared as a witness. She said that Freeman had confirmed that the package for Wiggins did contain Fluimucil, but that there was no paper trail to confirm it.
Freeman himself was originally scheduled to appear in front of the inquiry on Wednesday, but withdrew due to ill health.
Thank you for reading 20 articles this month* Join now for unlimited access
Enjoy your first month for just £1 / $1 / €1
*Read 5 free articles per month without a subscription
Join now for unlimited access
Try first month for just £1 / $1 / €1