Why Sunday's stage of the Tour de Yorkshire might be the hardest ever on British soil
Yorkshire is known for its testing roads and demanding climbs, but stage four of this year's Tour de Yorkshire could well be the hardest ever laid out on British soil. We previewed part of the course with Madison-Genesis to see what lies ahead on Sunday - Photos by Luke Webber/Madison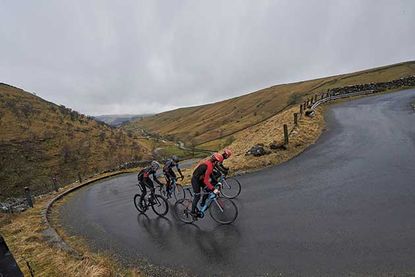 (Image credit: Luke Webber)
Get The Leadout Newsletter
The latest race content, interviews, features, reviews and expert buying guides, direct to your inbox!
Thank you for signing up to The Pick. You will receive a verification email shortly.
There was a problem. Please refresh the page and try again.
With the rain lashing against my hotel window, riding the punishing stage four of this year's Tour de Yorkshire isn't exactly appealing. I start to wonder if my subconscious has made me forget my helmet on purpose — the perfect excuse for staying indoors.
Either way, no such reprieve is given as Connor Swift has a spare helmet in the back of his van — he hadn't been sure which colour would suit him best when leaving the house. His indecision has 'saved' me.
Completing the Madison-Genesis trio that will help me recce part of the brutal stage four route alongside Swift are Richard Handley and Matthew Holmes, both of whom have secured top-10 finishes in the Tour de Yorkshire.
With 3,400m of climbing over 189.5 kilometres, it is probably best that we aren't taking on the whole stage today for my own wellbeing and the Madison-Genesis guys' patience. What we are tackling is one of the toughest chunks of the stage, starting in Kettlewell and the ascent of Park Rash.
Handley himself holds the Strava KOM for the Park Rash climb we are about to head up, even though he doubts he will be the holder for long.
"It'll definitely go [during the stage], there is a lot more that can come off that. We raced up it a little bit but I was having a play about at the top with Matt Holmes so it wasn't a full-blown Strava hunting ride," he says.
In spite of this, Handley believes the race, with three climbs of Hebden Bridge, Goose Eye and Barden Moor all covered in the first 50 kilometres, could have already broken up by the time the riders reach the base of Park Rash in Kettlewell.
"It seems almost front-loaded to me. The first climb out of Mytholmroyd is quite early on at 10 kilometres in; if a breakaway forms straight away the race will shut down and be nice and controlled. But if not then it could be a really early split with the GC favourites and there could be a lot of riders climbing off at the feed zone."
After this long grind, the peloton face two climbs with very different layouts — with short, sharp ramps on Côte de Goose Eye and Côte de Barden Moor, both of which average around 10 per cent and are 1.5 and one kilometre in length respectively.
But today we head straight for the 'showstopper' location of Park Rash.
Slow motion ascent
As we weave through the village of Kettlewell and turn onto Cam Gill Road to begin our ascent, we are greeted with a sharp kick of around 14 per cent for 100 metres or so that is merely a taster of what is to come. The ominous hairpin of Park Rash can be seen as we barrel down the valley road. Despite our fast run up we only manage to maintain our speed for the first 20 metres of the climb as the gradient bites and we begin the grind up.
It's probably having little effect on my progression but it feels as though the water streaming down the road against the flow of my tyres is hampering my ascent. However, I'm pretty sure it's the lack of winter riding stunting the cadence and ultimately my speed as I churn my way further up the slope.
>>> Tour de Yorkshire stage timings and where to watch
Taking the outside line is hardly respite from the relentless gradient averaging 18 per cent with a high of 21 per cent at one point. Looking back I struggle to define where that point actually was, as I try to keep my front wheel on the ground and force my weight backwards, paranoid that my rear wheel will skid.
As the road straightens up and drags upwards, we reach a farm and though my lungs are gulping down its effluent vapours I'm thankful the gradient begins to lessen. No sooner have my legs begun to spin more freely, and my heart rate begins to drop, than the final pitch in gradient arrives. Even though it is still above 10 per cent it almost feels like a false flat compared to the gruelling first section of the climb.
Trying to maintain a relaxed facade, I reach the summit. Cresting Park Rash is an achievement for mere mortals like myself, but the pros reckon it may not play as big a role in the race as organisers may have hoped. "If I'm honest, I think it is almost too hard," Holmes admits. "These WorldTour riders have to look after themselves. They are only human, so I don't think they'll particularly race up it with it being halfway through the stage. If there's a bit of wind over the top that's where I think they'll race."
However, the descent seems likely to play a pivotal role. It's inevitable that the race will fly down this part of the course, with riders either relishing raising their pace above 15mph for the first time in 20 minutes, or fighting to regain contact with the leading riders. But with broken surfaces, sudden drops off the side of the road and blind corners, it seems likely someone will come a cropper. Swift sums it up in four words: "That's Yorkshire for you."
Hidden hills
With four climbs down, the race profile would have you think there is a pause in the brutal terrain. But Handley explains that there are several climbs that aren't categorised but are hidden short, sharp kickers that can take a toll.
"I think a lot of the WorldTour riders know it's going to be hard but you just don't see the elevation gain," Handley explains.
"It may only be going up a 400-metre climb, but when they get here, it's not an easy 400 metres like you would get in Spain or Italy or wherever, so I think they are always a bit shocked."
The final sector of our mini stage four recon is on the Moorland Road from Laverton to Pateley Bridge, where the heavens open once again. On a clear day the views across the Yorkshire Dales are breathtaking; however, today the mist obscures everything and, soaked to the bone, we agree it's the time to conclude our ride.
On the day the riders will carry on to one of the pivotal points of the stage, Greenhow Hill, where Holmes may well have a little extra support.
"I've got a fan club in Pateley Bridge, my mum and dad came to watch and sat down by a church. The vicar asked who they were and got talking to my mum and dad and he said, 'Oh, we'll make a sign and cheer him on.' So all the people that go to church on the Sunday are going to be cheering me on," he explains.
Greenhow Hill is at its steepest at the bottom, but nothing like the relentless nature of Park Rash, as it pitches up in stages before flattening off once again. "There is a second steep kicker then the top half is a bit draggy but I can imagine this is where the GC teams will make it a bit gnarly," Handley predicts.
>>> Tour de Yorkshire 2018: Latest news, reports and race info
The Madison-Genesis guys know they are in for a few tough days in early May. But the thought of riding on home roads is an exciting prospect for Yorkshire native Swift. The crowds that will greet the riders across the four days are always one of the highlights of the year for the British outfit.
"When you flick back through pictures you see the crowds can be three or four people deep," Swift says. "When you are riding you go past so fast but when you see the pictures it's crazy."
Even with the course's numbness fresh in my legs, the enthusiasm from the Madison-Genesis riders is already inspiring me to go back and ride it again — though perhaps in the summer.
Meet the riders...
Matthew Holmes
The 24-year-old has already notched up a number of impressive domestic results, with the highlight being his fifth-place finish at last year's Tour de Yorkshire.
Connor Swift
In just his second year with Madison-Genesis, the 22-year-old cousin of Ben Swift looks to be making his mark already this season. With a second place stage finish at the Tour of Normandy showing that there could be plenty more to come.
Richard Handley
Handley has ridden every edition of the Tour de Yorkshire since its inaugural race in 2015. The Wigan-born man secured a 10th place overall finish when riding for JLT-Condor.
Thank you for reading 20 articles this month* Join now for unlimited access
Enjoy your first month for just £1 / $1 / €1
*Read 5 free articles per month without a subscription
Join now for unlimited access
Try first month for just £1 / $1 / €1
Get The Leadout Newsletter
The latest race content, interviews, features, reviews and expert buying guides, direct to your inbox!
Paul Knott is a fitness and features writer, who has also presented Cycling Weekly videos as well as contributing to the print magazine as well as online articles. In 2020 he published his first book, The Official Tour de France Road Cycling Training Guide (Welbeck), a guide designed to help readers improve their cycling performance via cherrypicking from the strategies adopted by the pros.