T-MOBILE PIN EARLY HOPES ON CAVENDISH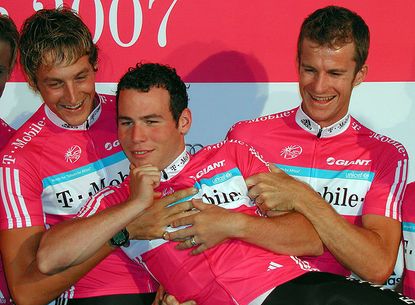 At the T-Mobile Tour de France team presentation on Friday morning it was clear the team have placed their early hopes for success in the sprints firmly on the young shoulders of Mark Cavendish.
During the breakfast presentation at Jamie Oliver?s Fifteen restaurant in north London, team leader Michael Rogers was the first rider to be presented but Cavendish was the last and given the most attention from the scrum of British and German media.
T-Mobile manager Bob Stapleton has already nicknamed the 22 year British rider as ?Cannonball Cavendish? and is enthusiastic about him taking on the big name sprinters in the chaotic Tour de France finishes.
?He?s our fast man and I like to call him ?Cannonball Cavendish? for ability to bounce off his opponents and win,? Stapleton said.
Directeur sportif Rolf Aldag made it clear Cavendish will be the team?s protected sprinter in the first week of the Tour, with Bernhard Eisel openly volunteering to act as lead out man and body guard to his younger team mate.
?He?s really enthusiastic and so we?re trying to slow him down a bit. We hope he doesn?t crash early on so he can show everybody what he can do. He?s here to learn and he?s got 15 Tours in front of him. If he wins a sprint great, if he only finishes 20th and learns something for the future, that?s okay,? Aldag said.
The T-Mobile team are pinning their overall hopes on Australia?s Michael Rogers. He finished tenth last year but has been struggling with a painful right knee after suffering a micro fracture in his lower leg at the Tour of the Basque Country in April. Other key players at T-Mobile include Kim Kirchen of Luxembourg who recently finished second overall at the Tour of Switzerland, Germany?s Patrick Sinkewitz and Germany?s Marcus Burghardt who won Ghent-Wevelgem thanks to some excellent work by Roger Hammond.
Hammond was hugely disappointed not to get a place in the T-Mobile Tour de France team and has refused to speak about why he was left at home. The team revealed that Hammond just missed out on a place but insisted he is a key rider in the team. Hammond is apparently planning to get rid of his anger and disappointment by going for overall victory in the Tout of Britain in September.
?Roger is a great guy and it was really a tough call to leave him out of the team. He was last reserve and was disappointed not to make it but he?s a key part of the team in the future,? Aldag said.
Thank you for reading 20 articles this month* Join now for unlimited access
Enjoy your first month for just £1 / $1 / €1
*Read 5 free articles per month without a subscription
Join now for unlimited access
Try first month for just £1 / $1 / €1