Tacks thrown on road and signs removed in Surrey charity cycle ride
Saboteur threw tacks on the roads used by the Kelly's Summer Cycle event in Surrey on Sunday, July 10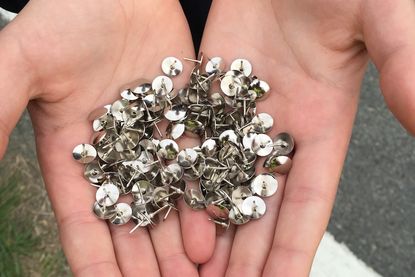 Tacks were thrown onto roads used by a charity cycle ride in Surrey on Sunday, July 10, with event signage also removed by saboteurs.
The organiser of the Kelly's Summer Cycle event from Effingham last weekend reports that someone had placed tacks on sections of road used in the event.
"People put lives at risk by doing such things," Moira Martin, director of Kelly's Storage Charity Events told Get Surrey. "Kelly's Storage Charity Events are completely non-profit making. Every penny donated, including entries, goes directly to charity.
>>> Dr Hutch: Sportive sabotage
"We all get annoyed if we are held up by cyclists while driving, but we are privileged to live in an area of outstanding natural beauty and should be prepared to share it with others, especially if they are raising money for our own local charities."
The event is organised to raise funds for the Cherry Trees respite care charity, raising over £7,000 so far.
The annual event starts in Effingham Rugby Club before heading out into the North Downs and parts of West Sussex.
Watch: What to pack for every sportive
Tack sabotage has become a regular feature of Surrey cycling events, with the Redhill CC road race and Dulcie Walker Cup road race both being targetted in the past two years.
Other events around the country have also been sabotaged, including the Etape Caledonia, Valleys Velo Sportive, New Forest Spring Sportive and Marlow Red Kite.
Tacks thrown on to the road during the Velothon Wales last year caused several injuries as riders crashed on a fast descent after puncturing.
Thank you for reading 10 articles this month* Join now for unlimited access
Enjoy your first month for just £1 / $1 / €1
*Read 5 free articles per month without a subscription
Join now for unlimited access
Try first month for just £1 / $1 / €1