Team Raleigh squad announced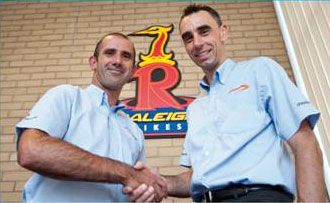 Team Raleigh has announced the nine riders who will wear the colours of the newly formed squad in 2010.
The Nottingham-based manufacturer that backed the legendary TI-Raleigh team to Tour de France victory with Joop Zoetemelk in 1980 makes a return to the UK racing scene with ambitions to spread further afield in the long term.
Former Kinesis manager Chris Truett has signed a mixture of experience and youth, with Tom Barras, Dale Appleby and Liam Holohan the best known names in the line-up. 2008 Perfs winner James Stewart follows Truett from Kinesis, while Australian Peter Smith and German Julian Rammler give the squad an international flavour.
"Going back into men's pro cycling is a massive step," said Raleigh marketing manager Geoff Giddings. "Chris is very good at identifying new, young talent. We are buying into his experience and giving him the opportunity to step up another level."
The team is applying for UCI Continental status with an eye on the Tours of Britain and Ireland and aims to be competitive in all major UK road and circuit races. "We want to be very visible in the road scene and need riders that are going to do that for us," said Giddings, "but we also want to develop young talent and bring that through under our brand. That has been Chris' strength in the past."
The squad is set to ride Dura Ace-equipped newly designed carbon Raleigh frames, with the famous heron head-tube badge making a welcome return as Raleigh corporate logo.
BARRAS STILL WINNING
Senior squad member Tom Barras knows most of his team-mates ahead of this weekend's first get-together in Southport. "I have raced with Liam Holohan before, at Merlin, and Dale Appleby from CandiTV is a very good rider. Dan Shand had three years in Belgium and is also very able. And Richard Handley and Mike Cummings are both from the North West and both very talented. It is a young team - I am by far the oldest at 31."
It was a strange year for the Yorkshireman as he left Plowman Craven-Madison mid-season before small Italian clothing company MSTina came to the aid of both Barras and Tony Gibb. "MSTina have been very good to me," said Barras. "Last year was quite disruptive, but I have come out with eight wins. So all things considered, I am very happy with how it went."
Barras is looking forward to helping Truett and the team put the bike producers name in the headlines. "Chris has been on the scene a long time and deserves this. He is the man who can take Raleigh back into the limelight," he said.
Tom Barras: Putting Raleigh in the limelight
UK Riders
Tom Barras
Dale Appleby
Liam Holohan
Daniel Shand
James Stewart
Richard Handley
Michael Cumings
International Riders
Peter Smith - Australian
Julian Rammler - German
Team Manager
Chris Truett
RELATED LINKS
Team Raleigh make a comeback
Rides: Raleigh in Nottinghamshire
EXTERNAL LINK
Thank you for reading 20 articles this month* Join now for unlimited access
Enjoy your first month for just £1 / $1 / €1
*Read 5 free articles per month without a subscription
Join now for unlimited access
Try first month for just £1 / $1 / €1