Team Raleigh to make a comeback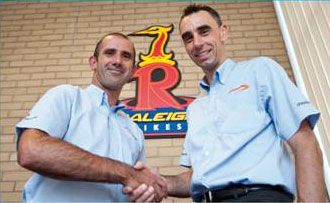 Nottinghamshire-based Raleigh bikes have announced a comeback to the world of professional road racing, with the creation of a new team for 2010.
The squad are aiming to compete in predominantly British races during 2010 with the five-year plan of taking the team on the continent 'at the very highest level' in five years' time. To signal their long-term intentions, the squad has already registered an application for Continental status with the Union Cycliste Internationale.
"Raleigh aim to re-establish themselves at the very height of professional road racing again, 30 years after thier 1980 Tour de France win," reads the press release from Raleigh issued on Thursday.
Team Raleigh will contest the Premier Calendar series, Tour Series and Elite circuit races in its first year.
Although the rider roster has yet to be announced, the manager will be Chris Truett (pictured above left with Raleigh's Geoff Giddings), formerly of the Kinesis UK team.
"I am excited and honoured to be the new team manager for Raleigh, one of the best bike companies in the world," said Truett. "We have some exciting times ahead and I will be looking to make Raleigh the best team in the UK that everyone will be talking about... Raleigh is back."
Raleigh remains the greatest name in cycling," said Raleigh managing direcotr Mark Gouldthorp. "It is only appropriate that we re-establish a UK based road team which sets its sights on international success."
Although Raleigh's name will be strongly associated with the squad, they are currently looking for a sponsor to give the outfit the necessary finances to contest the European circuit.
Return of Raleigh
The beginnings of the company itself were founded in 1887 on Raleigh Street in Nottingham, with the name Raleigh Bicycle Company registered in 1890. By the turn of the century, Raleigh had become the largest manufacturer of bicycles in the world.
Although still based in Nottingham, bicycles ceased to be assembled there in 2003, when production switched entirely to the Far East.
Raleigh's name has been associated with professional cycling teams on and off for several decades. Whilst riding for the iconic Ti-Raleigh team, Dutchman Joop Zoetemelk won the 1980 Tour de France. The 1980s also played host to the legendary Raleigh-Banana squad.
During the 1990s, the Raleigh name was associated with a mountain bike team that was home to top British off-roaders Barrie Clarke and David Baker, among others.
More recently, the Lifeforce-Raleigh women's team was home to current Olympic road race champion Nicole Cooke during the 2006-07 seasons.
The brand is currently sponsor to the Raleigh-Avanti team, taking its name of the company's range of road bikes.
Related links
Rides: Team Raleigh in Nottinghamshire
External link
Thank you for reading 20 articles this month* Join now for unlimited access
Enjoy your first month for just £1 / $1 / €1
*Read 5 free articles per month without a subscription
Join now for unlimited access
Try first month for just £1 / $1 / €1