Team Sky announce immediate signing of Eddie Dunbar from Aqua Blue Sport
The 22-year-old Irishman will make his debut this Saturday at the Coppa Agostoni one-day race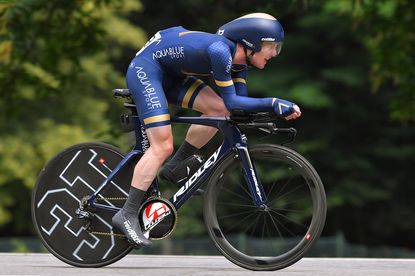 (Image credit: Getty Images)
Team Sky have announced the immediate signing of Irishman Eddie Dunbar from Aqua Blue Sport, which folded last month.
Dunbar, 22, will make his debut for the WorldTour team, taking to the start line of the Coppa Agostoni one-day race on Saturday.
Aqua Blue Sport announced in late August that the team would be ceasing, blaming a lack of support from race organisers.
>>>Aqua Blue Sport folds leaving Adam Blythe and more without a contract
Team Sky principal Sir Dave Brailsford said of the signing: "Obviously the circumstances, with Aqua Blue folding, aren't ideal for anyone at the team, or the sport in general. You never like to see teams go through something like that.
"But we're pleased to be able to offer Eddie and immediate route back in with Team Sky."
"Eddie is a talented young rider and we're delighted he's agreed to join us."
Aqua Blue folding left a number of riders without contracts, including Adam Blythe, Mark Christian and Connor Dunne.
The team had been due to ride the Tour of Britain, but following the announcement of the closure Aqua Blue pulled out of the eight-day stage race.
Dunbar was contracted to Aqua Blue for the 2018 season, but both the team and the UCI have approved the move following the closure.
Sir Dave added: "We have been watching [Dunbar] for a while and it's clear that he has great potential.
"He particularly impress at the Tour de Yorkshire and Tour de l'Avenir this year and we hope he can build on those performances with us.
"We're looking forward to integrating him into the team during the remainder of 2018, allowing him to hit the ground running in 2019, and hope he can form a part of our next generation as we continue to build for the future."
Dunbar finished eighth both in Yorkshire and at the Tour de l'Avenir, and Sky hope the youngster can perform at the Italian Classics.
The Irishman said: "I'm really grateful for the opportunity I'm getting after the situation I've found myself in.
"It's all fallen into place for me and I can't wait to get started now.
"This is a great opportunity for me to spend the last few weeks of the season with a team I'll be riding for next year. It will make the transition a lot easier.
"It's really helpful to have this opportunity to familiarise myself with everything, especially the riders and the staff, ahead of next season."
Thank you for reading 5 articles this month* Join now for unlimited access
Enjoy your first month for just £1 / $1 / €1
*Read 5 free articles per month without a subscription
Join now for unlimited access
Try first month for just £1 / $1 / €1