Technical, unrelenting, steep: the National Hill-Climb course at Jackson Bridge
We take a look at the RTTC National Hill-Climb Championships course at Jackson Bridge, near Holmfirth in Yorkshire, taking place this Sunday (October 25)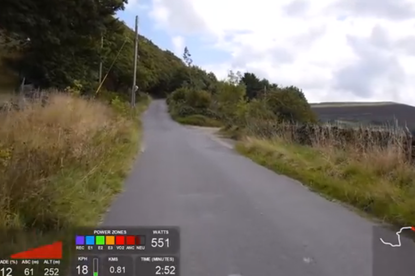 The RTTC National Hill-Climb Championships takes place this Sunday (October 25) at Jackson Bridge – but what will the 240 riders have to tackle?
The race takes place on the V9912 course, better known as the Scar Hole Lane in the village, near Holmfirth in West Yorkshire.
Paddy Power, like ourselves, have Dan Evans (opens in new tab) as favourite for the men's Championships, with the bookmakers offering odds as low as 11/8 for the reigning champion to retain his title. Maryka Sennema (opens in new tab), the 2013 and 2014 winner, is the favourite for the women's title; Paddy Power have the Paceline RT rider as low as 1/3. (opens in new tab)
>>> RTTC National Hill-Climb Championships 2015: Who will win?
Author of 100 Greatest Cycling Climbs, Simon Warren, has produced a video of the climb, as part of his soon-to-be-released videos of Britain's best climbs.
The 0.9-mile course averages a punishing gradient of 10.6 per cent, rising 491 feet from a starting elevation of 910 feet. A Strava segment, which omits the start, gives a good impression of the course.
Riders have described the course's lack of a constant rhythm as posing a problem in how to approach the climb, with four sections rearing up to gradients in excess of 15 per cent.
>>> Carrot sticks over butter and bread for dieting hill-climbers
The course starts steep, before embarking on an undulating twisting terrain with frequent rises. A slight plateau greets riders as they near the end, but there is a final sharp 100 metres to deal with before completion.
The course record of 3-49.9 was set by 1994 National Hill-Climb winner Jeff Wright, but because of an 80 yard course revision, the winner of Sunday's event will become the new course record holder.
Details for attending the event, parking and access to the course can be viewed on the CTT website by clicking here (opens in new tab).
Thank you for reading 5 articles this month* Join now for unlimited access
Enjoy your first month for just £1 / $1 / €1
*Read 5 free articles per month without a subscription
Join now for unlimited access
Try first month for just £1 / $1 / €1