The Big Interview: Jason Queally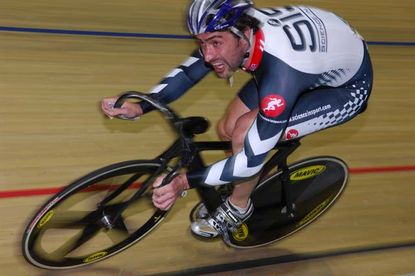 Get The Leadout Newsletter
The latest race content, interviews, features, reviews and expert buying guides, direct to your inbox!
Thank you for signing up to The Pick. You will receive a verification email shortly.
There was a problem. Please refresh the page and try again.
Almost ten years ago, Jason Queally won the kilometre at the Olympic Games in Sydney kicking off the British Cycling revolution that by Beijing 2008 had turned into a gold rush.
The former water polo player had come to cycling at the age of 25 and, despite a horrific crash at Meadowbank early on, established himself as a world-class kilometre and team sprint rider.
He last rode the World Championships in Bordeaux in 2006, helping the team sprint squad to a silver medal behind the French. By the time Beijing came round his individual event had been wiped from the programme and others had overtaken him in the race for team sprint places.
Queally had been preparing for a new lease of life as a Paralympic pilot rider, sitting out elite competition for two years to ensure his eligibility.
But now, at the age of 39, he's back in the Great Britain squad and travels to next week's World Championships in Copenhagen - as part of the team pursuit squad.
He has his sights set on an incredible comeback and a place in the quartet at London in 2012. Can it happen? Can Queally go from kilo rider to team pursuiter and compete in the Olympics at the age of 42? Queally is determined to do everything he can.
He explained to Cycling Weekly how this dramatic change of direction came about.
How did your involvement with the team pursuit squad happen?
It started off from being part of the Paralympic squad. I had gone into the paras thinking I'd pilot for the kilo but unfortunately for me British Cycling was looking for each athlete to do two events, so I had to have a think about another event.
None of the other sprint events appealed? The tandem sprint for example?
No, I wasn't keen on that. Many moons ago, when I first started cycling, in 1996, I had a very serious accident. [At Meadowbank track in Scotland Queally crashed and an 18-inch piece of the wooden track went through his body]. Before that, I did everything on the track, the sprint, scratch races, everything but after a near-death experience I thought 'woah' and from that day I never took part in the sprint events. People said that I could have done well in them, but I thought if I could get away with doing what I was doing in the kilo, I didn't want to do the sprint events again. That's why the tandem sprint didn't appeal to me, so I had to think of another event to do.
So, I thought I'd have a go at the pursuit. I contacted Matt Parker [British Cycling coach] and asked to have a chat about doing some more specific endurance training. That was in autumn 2008. He gave me some pointers and said I could come down and have a play with the team pursuit squad, not necessarily to train in the group and do the changes, but ride off the back and see what it was like.
Where did it go from there?
I started doing road rides with them and a bit of team pursuit training and Matt said I was going really well. In early 2009, Matt was talking to me about an idea he had for the team pursuit, which was to integrate a kilo rider. He was looking at ways for the team pursuit to go even faster and he was asking whether a kilo rider could develop that endurance but retain the speed and I said 'Well, it's definitely something to look at'. Then he said: 'How do you feel about being that rider?'
And how did you feel?
I said I wasn't interested. I was happy with the situation with the Paralympic squad, training with Anthony Kappes and looking forward to that. I felt that London 2012 was a great opportunity and I was enjoying what I was doing. But then, in the lead-up to the Manchester World Cup, when they did a 3-54, I had been training with them. I was integrated into the group and doing some of the changes and it was going really well. Then Shane [Sutton, British Cycling coach] said to me: 'Why don't you think about giving it a go in the team pursuit?' Even then I said no. It was great fun but there was no pressure at that stage. I wasn't in the team or thinking about being in the team, I was learning such a lot, but I wasn't racing. Nothing depended on it. But it played on my mind. I had two people suggesting there was potential to go for the team pursuit in 2012.
It kept playing on my mind, and I just couldn't get away from it. I had thought my elite career, if you like, was over and I was focused on the Paralympics, but the more I thought about it, I realised I was keen to have a go. I have been very fortunate, I've had a super career, but the potential to have another opportunity when I'd never envisaged it, was too good to walk away from.
Have you had to sacrifice the Paralympics?
Yes. That was the difficult decision, but basically I am finished with the paras. Once I'd made that call to go for the team pursuit that was done and dusted, whatever happens. If I don't make the team pursuit squad in 2012 I won't be going to London in any capacity, that's the choice I had to make. But my wife, Vicky, said 'You've just got to go for it'. My son Daniel will be three in May, he came along prior to Beijing, and I know that pursuing this will mean time away from the family but that is a sacrifice I have to make if I'm going to give it everything.
Dave [Brailsford] and Shane have been amazingly helpful. They suggested I could carry on with the Paralympic team until a year to go [to London 2012] and then decide, but I knew that to get into the team pursuit squad I have to be dedicated to that. How would I feel if I joined up with a year to go and missed out by a tenth of a second? We've got so many fine riders it's going to be hard enough anyway.
How different is the team pursuit to the team sprint?
The team pursuit, there's no judgement of effort, it's just full-on. It's 750 metres, and man one does a 17.1-second opening lap and man two is just hanging on, then man two goes as hard as possible and man three is just trying to hang on. It's all over in 43 seconds and there's no pacing involved, you're not holding back or riding to a schedule.
The team pursuit is controlled. It's about getting four riders, or at least three, over the line in the quickest time, not necessarily about going as hard as possible from the start. You have four different riders and you have to make the most of each of those riders without burning them out too soon. It's about smoothness and timing everything so that the moment you run out of steam and reach your maximum is the moment you hit the finish line. Sometimes in the kilo you blow after two laps and you're hanging on. You can't blow in the team pursuit because you'll lose speed and as soon as someone is trying to make up for that loss of speed the whole effort is gone. So it's about understanding the pacing over 16 laps.
You've been enjoying getting to grips with the technical side then?
The riders we've got are phenomenal, they really are. You see them all with their helmets on and you can't tell what's going on underneath, they look so smooth, so in control, but there's a lot of pain under those helmets. Anything new to me is interesting, there's so much to learn and it's very stimulating, so I'm really enjoying it. I just love the sport of it, the lifestyle, being fit, trying to get better, I love the fact it's a team event and you have to understand the riders around you, and the chance to compete at the elite level again is very exciting.
I've still got the raw speed, the endurance side is coming on but I'm not as good as the other riders. We were training in Majorca, going up all these climbs, and I was just hanging on. When I was doing the kilo the road really didn't feature much, it was just a tiny bit of endurance training and a bit of recovery. But when you're hitting the road for five hours, I find it cathartic. Hanging on in the mountains, doing better than the previous day, I feel good when I'm achieving something.
I'd like to lose a bit of weight, get down to 84kg [from 87, 88] and see what difference that makes.
How do you rate your chances of getting a ride at the World Championships in Copenhagen?
At the minute I suspect I am fifth man. We've got four very good riders and if I was the coach I'd be asking 'Well, what does Jason give us over those four?' and at the moment I'd have to say 'Nothing'. They are highly experienced and going very, very well. I'm not as good technically, but I am on a par physically. I can improve a lot in a short space of time so you never know, but it'd be a gamble to throw me in.
What sort of efforts have you done in training?
We did a trial the week before the squad [for the Worlds] was picked. It was a standing start, three-kilometre. It was Andy Tennant, Ed Clancy, Steve Burke and me. I was man four and I managed to hang in there. I don't know exactly what schedule we were on but it was definitely sub four-minutes. Unbeknown to me, that was my trial. I didn't realise how important that ride was.
What happens if you don't get a ride in Copenhagen?
Whatever happens, I am still going to pursue it after the Worlds, and aim for London 2012. We've got such a strong squad, it's not going to be easy, but that's the challenge isn't it.
Thank you for reading 20 articles this month* Join now for unlimited access
Enjoy your first month for just £1 / $1 / €1
*Read 5 free articles per month without a subscription
Join now for unlimited access
Try first month for just £1 / $1 / €1
Get The Leadout Newsletter
The latest race content, interviews, features, reviews and expert buying guides, direct to your inbox!
Sports journalist Lionel Birnie has written professionally for Sunday Times, Procycling and of course Cycling Weekly. He is also an author, publisher, and co-founder of The Cycling Podcast. His first experience covering the Tour de France came in 1999, and he has presented The Cycling Podcast with Richard Moore and Daniel Friebe since 2013. He founded Peloton Publishing in 2010 and has ghostwritten and published the autobiography of Sean Kelly, as well as a number of other sports icons.