Theo Bos takes own food to Langkawi to avoid illness
Dutch sprinter Theo Bos celebrated Tour de Langkawi stage win with meal made of canned tuna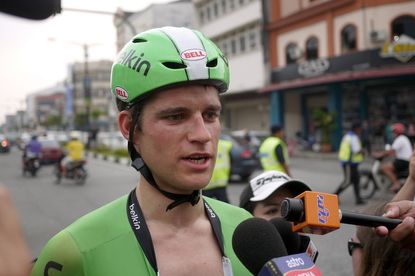 (Image credit: Gregor Brown)
Theo Bos (Belkin) approaches Asian races with caution so that he does not become sick or worse yet, fail an anti-doping test. He celebrated yesterday's stage win in the Tour de Langkawi with a canned tuna dinner.
"Last year, I became sick as soon as I got here," Bos told Cycling Weekly. "Also in the Tour of Qatar last month. I was eating just from the buffet there but I also didn't feel good so I thought, I'll bring as much as I can to these races. I'm trying to be really careful."
The Belkin team soigneurs brings as much as they can, like muesli, jam and peanut butter. They buy soy milk but leave their riders to risk it at the hotels' buffets.
"You have to hope there's some good bread in the hotel but most of the time they provide just the square white bread," Bos said.
"I bring pre-fab food with some soy, rice and vegetables. You can eat it cold and warm, it's really nice. You have to warm it up a bit, but every room as a water cooker so it's not so difficult.
"The only problem is that you are unable to eat so many vegetables and fruit here. I'd rather not eat them because you never know how it's cooked. I will sometimes eat the rice here but not meat or fish, only the fish I bring myself, canned tuna."
Avoiding the Clenbuterol problem
Michael Rogers (Tinkoff-Saxo) and Jonathan Breyne (Crelan-Euphony) tested positive for banned drug Clenbuterol after racing in China this year. Rogers said that he believes the problem stemmed from contaminated food at the Tour of Beijing.
The World Anti-Doping Agency (WADA) recognised that in China and Mexico Clenbuterol contamination is a problem because cattle farmers use it to increase production and lean meat. However, it still puts the responsibility on the athletes' shoulders to prove how the drug arrived in their bodies.
Bos raced China's Tour of Hainan in October and sprinted to six stage wins but skipped the beef.
"We ate rice there. I wasn't well prepared at that time so I was on a rice diet," said Bos. "It was interesting, I felt empty at the end. You lose power. We also have protein shakes to keep power in our legs. If you have protein, carbs and the right fats, then it's OK, but you just miss the vegetables and minerals."
"I don't think there's a Clenbuterol problem here. I looked it up on the internet, I think it's just Mexico and China that has the problem. Maybe we'll go out to a good steak restaurant tonight."
Under-23 world championship silver medallist Louis Meintjes lines up for the Tour de Langkawi
Thank you for reading 5 articles this month* Join now for unlimited access
Enjoy your first month for just £1 / $1 / €1
*Read 5 free articles per month without a subscription
Join now for unlimited access
Try first month for just £1 / $1 / €1