There's something quite familiar about Alexander Kristoff's winning pattern this year
Alexander Kristoff has started his season in EXACTLY the same way that he started last season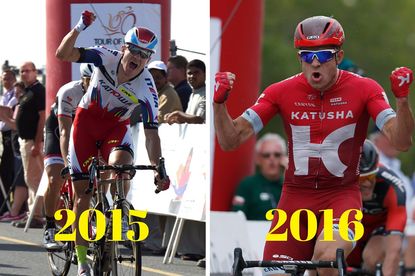 Remember last year, when Alexander Kristoff (Katusha) seemed to win every race he entered? Well, it's happening again in 2016.
Quite remarkably, in a stat pointed out by the kings of stats at Pro Cycling Stats, Kristoff has won the exact same stages at the same races as he did in 2015.
This year, like last year, the Norwegian took victory on stages two, four and five at the Tour of Qatar and then raised his arms in celebration again on stage three of the Tour of Oman.
If this continues, and there's no reason why it cant, you'd be well advised to place bets on him winning the Tour of Flanders and Scheldeprijs again.
The more niche bet would be to back him on stage one of Paris-Nice, which will be his next win, mark my words.
Last year Kristoff put together one of the best seasons in recent history, winning stage races, one day races and a Monument, so it's a little spooky to see him starting to do the exact same things again.
Thank you for reading 20 articles this month* Join now for unlimited access
Enjoy your first month for just £1 / $1 / €1
*Read 5 free articles per month without a subscription
Join now for unlimited access
Try first month for just £1 / $1 / €1