This £7 Aldi baselayer bears a striking resemblance to Rapha's £50 alternative design
Rapha responds by welcoming Aldi's contribution to the cycling industry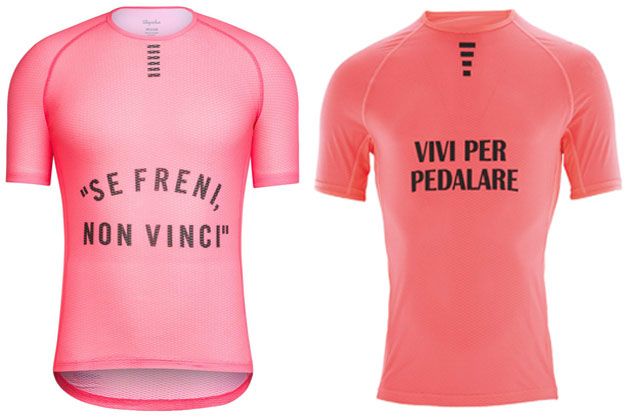 High-end cycling retailer Rapha has responded with magnanimity after one of its employees spotted a striking resemblance between its own Short Sleeve Pro Team baselayer and Aldi's significantly cheaper Crane Men's Pink Mesh baselayer.
Rapha head of media Oliver Duggan took to Twitter on Monday to point out the similarities between Rapha's baselayer, which retails for £50, and Aldi's £6.99 alternative which will be available to buy as part of its Specialbuys event on Sunday, April 29.
"Hey, @AldiUK nice base layer design. How'd you think of that?" Duggan tweeted alongside photos of the two designs, both of which feature a similar shade of pink, an Italian phrase across the front, and black dashes at the neck line.
In an official statement from Rapha, the company praised the budget supermarket for its efforts in selling entry-level cycling kit, and that there had been no intention to cause offence in highlighting the similarities between the two designs.
"We have huge admiration for any brand that is helping get people on bikes and it can only be a good thing that retailers like Aldi are selling cycling apparel," a Rapha spokesperson said. "We are very proud of our design work and no offence was intended in pointing out the parallels."
>>> The best cycling baselayers: A buyer's guide
There is also a women's version of the Aldi baselayer, which is only available in white and features the Italian phrase "mangi dormi pedala" ("eat sleep pedal") across the front, rather than the "vivi per pedalare" ("live to pedal") on the men's version. As for the men's version of the Rapha baselayer (which has since been redesigned for 2018), this has the phrase "se freni, non vinci" (if you brake, you do not win") across the front.
Contacted by Cycling Weekly, an Aldi spokesperson said: "We provide an extensive range of quality cycling clothing and equipment that helps to make the sport accessible and affordable for all."