TOUR STAGE WINNER BACKSTEDT TO RIDE SUNDAY'S BLACKPOOL GRAND PRIX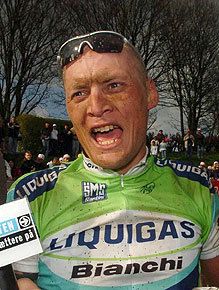 Sweden's Tour de France stage winner, Magnus Backstedt, is to ride Sunday?s 140-kilometre Blackpool Grand Prix, where he will take on British Olympic track star Chris Newton.
Backstedt didn?t make the cut for his Liquigas squad's 2007 Tour de France because of injury.
A Belgian squad featuring two Brits is also entered, Daniel Davies from Derby and Daniel Shand from Rochdale. Both ride for the KW Heist Zuiderkempen.
Team Manager Albert Indeku said: ?This season we have two British riders, and the opportunity to race in front of their own people was one of the reasons that Heist Zuiderkempen was keen to come to Blackpool, with full team support, to give the two Dans a chance to race in the inaugural Blackpool Fest. Everyone is very pleased to have been invited and is looking forward immensely to the event."
The event will have a full police motorcycle escort and command car, plus the national escort group, says organiser Ivor Armstrong of Cycling Development North West.
The police will operate a rolling road closure to get the race to a fully closed 6 .5-kilometre circuit in the Flyde, before returning to Blackpool for a closed road finish on the promenade.
For more details of the event, see Cycling Weekly out on Thursday. (News of Backstedt?s entry was received after the page went to press.)
Thank you for reading 10 articles this month* Join now for unlimited access
Enjoy your first month for just £1 / $1 / €1
*Read 5 free articles per month without a subscription
Join now for unlimited access
Try first month for just £1 / $1 / €1
Keith Bingham joined the Cycling Weekly team in the summer of 1971, and retired in 2011. During his time, he covered numerous Tours de France, Milk Races and everything in-between. He was well known for his long-running 'Bikewatch' column, and played a pivotal role in fighting for the future of once at-threat cycling venues such as Hog Hill and Herne Hill Velodrome.