TRACK WORLDS AS IT HAPPENED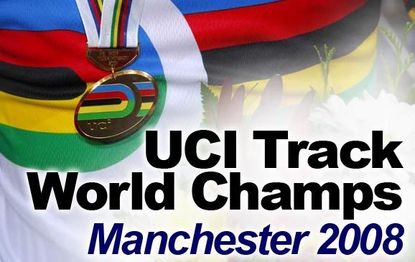 DAY ONE FROM MANCHESTER
All the action as it happened.
MEDAL TABLE AFTER DAY 1
1 Great Britain (1 gold, 1 silver, 0 bronze)
2 France (1 gold, 0 silver, 1 bronze)
3 Cuba (1 gold, 0 silver, 0 bronze)
= Belarus (1 gold, 0 silver, 0 bronze)
5 Netherlands (0 gold, 2 silver, 1 bronze)
6 Lithuania (0 gold, 1 silver, 0 bronze)
7 Russia (0 gold, 0 silver, 1 bronze)
= Germany (0 gold, 0 silver, 1 bronze)
21.28 The tape player has stuck and the French national anthem has been stalled after the opening couple of notes. Led by the French fans in the velodrome there's a pretty decent stab at La Marseillaise being attempted by the crowd, with those Brits who don't know the words singing along.
Swipe to scroll horizontally
Scroll down for reports of the qualifying
RESULTS
1 France 43.271sec
2 Great Britain 43.777sec
3 Netherlands 43.718sec
21.14 The French get it by half a second. They really are unbeatable. The British team recorded their fastest ever time over 750 metres but it was not quite enough. Still, it was a fantastic ride and gives hope that perhaps the French can be toppled in Beijing.
21.12 GOLD MEDAL RACE France, who have won this title for the past two years (Gregory Bauge, Arnaud Tournant and Kevin Sireau). Great Britain, world champions in 2005 (Ross Edgar, Chris Hoy, Jamie Staff). Who will it be? The French are favourites but can the Brits pull it off?
21.09 BRONZE MEDAL RACE Netherlands, represented by Theo Bos, Teun Mulder and Tim Veldt, against Germany (Rene Enders, Maximilian Levy, Stefan Nimke).
The Dutch have got it in 43.718. The Germans' time was 44.275.
21.06 Before the team sprint finals, it's the presentation ceremony for the individual pursuit, where Bradley Wiggins is collecting his medal. It's certainly a timely blast of the National Anthem to stir up the British team sprinters.
21.05 So, to the final event of the first night here in Manchester. The medal races in the men's team sprint. It'll be Netherlands versus Germany in the bronze medal match and then it's the clash for gold.
It's a rematch of last year's final, where the French came out on top.
The French replace Mickael Bourgain with Arnaud Tournant for the final.
News reaches us from Paris that the French are beating England in the football. Admittedly this is Great Britain but even the Scots love stuffing the French at sport. Do it for Britain, Chris!
Swipe to scroll horizontally
Last year
Gold Wong Kam Po (Hong Kong, China)
Silver Wim Stroetinga (Netherlands)
Bronze Rafal Ratajczyk (Poland)
The Brits Jonny Bellis (14th in the final)
The British challenge
Steven Burke
TOP THREE
1 Aliaksandr Lisouski (Belarus)
2 Wim Stroetinga (Netherlands)
3 Roger Kluge (Germany)
20.58 A typically frantic scratch race has just finished, with the Belarus rider Lisouski taking it as he held off the Dutchman Stroetinga on the line.
Swipe to scroll horizontally
Last year
Gold France (Bauge, Bourgain, Tournant)
Silver Great Britain (Edgar, Hoy, MacLean)
Bronze Germany (Forstemann, Levy, Nimke)
The British challenge
Jamie Staff, Ross Edgar, Chris Hoy
TEAM SPRINT QUALIFYING
Best times - top tep
1 France 43.514sec
2 Great Britain 43.910sec
3 Netherlands 43.958sec
4 Germany 44.257sec
5 Australia 44.615sec
6 Russia 44.898sec
7 China 45.004sec
8 Japan 45.081sec
9 Ukraine 45.061sec
10 USA 45.129sec
20.28 The Malaysians cannot cause a spectacular upset and so for the gold medal later this evening it'll be a contest between France and Great Britain. Netherlands will face Germany in the race for bronze.
20.25 NEW BEST TIME Astonishing stuff. France's team of Gregory Bauge, Mickael Bourgain and Kevin Sireau set the new best time of 43.514. The Netherlands will face Germany after they clocked 43.958.
20.23 NEW BEST TIME Great Britain set a blistering time of 43.910 seconds to ensure they'll ride for a medal. Germany are no slouches either, with 44.257 seconds, which puts them in second place. Now we wait to see if the French or Dutch can deny Great Britain a place in the gold medal race. Oh, let's not forget Malaysia, who are riding again after their mishap.
BRITISH TEAMcolour>
20.21 It's time for Ross Edgar, Chris Hoy and Jamie Staff to hit the track. They're up against the Germans in the penultimate heat.
20.19 NEW BEST TIME The Australian trio of Daniel Ellis, Mark French and Ben Kersten go into the lead and have a good chance of surviving in the top four to earn a shot at the medals.
20.16 China jump into second place, with Japan in third, with three heats to go. Next up it's Australia and Spain.
20.13 The teams of three are qualifying in heats with two teams on the track at a time. So far the Russians have the best time, just ahead of Ukraine. Malaysia are having another go at the end because on of their riders fell during their heat. Now there's a bit of a pause as the Chinese and Japanese teams both false-started in their heat.
Great Britain go in heat seven, the penultimate heat, up against Germany. The British trio is Ross Edgar, Chris Hoy and Jamie Staff.
20.09 Team sprint qualifying is underway and we probably welcome a host of readers who have switched off BBC2's live coverage.
Swipe to scroll horizontally
Last year
Gold Bradley Wiggins (Great Britain)
Silver Robert Bartko (Germany)
Bronze Sergi Escobar (Spain)
Other Brits Rob Hayles (7th in qualifying)
The British challenge
Bradley Wiggins
RESULTS
1 Bradley Wiggins (Great Britain) 4-18.519
2 Jenning Huizenga (Netherlands) 4-23.474
3 Alexei Markov (Russia) 4-21.097
THE FINAL
19.52 Mission accomplished for Wiggins, the favourite. He clinches gold in a time of 4-18.519, with Huizenga in 4-23.474 Britain's first gold medal is in the bag.
19.51 3,000 metres done and the gap is nearly three seconds. Wiggins is in control and there doesn't look like being an upset.
19.50 By the end of the second kilometre the gap had widened to 1.119 seconds in Wiggins' favour.
19.48 They're off. We understand Bradley Wiggins has been suffering with a bit of sickness today and brought up his lunch.
After the first kilometre he was showing no signs of a lack of strength, narrowly edging the Dutchman.
19.47 Bradley Wiggins actually qualified second in a time of 4-17.024. The Dutch rider Jenning Huizenga was quickest in 4-16.343. They were actually drawn together in the final heat so this is a rematch.
19.45 With the crowd anticipating the gold medal final between Bradley Wiggins and Jenning Huizenga, the bronze medal final was a low-key race, with the Russian Markov taking control midway through the race and finishing 4-21.097. Roulston's time was 4-23.663.
19.42
BRONZE MEDAL RACE
Alexei Markov (Russia) v Hayden Roulston (New Zealand)
Swipe to scroll horizontally
Last year
Gold Anna Meares (Australia)
Silver Lisandra Guerra (Cuba)
Bronze Natalia Tsylinskaya (Belarus)
The Brits Shanaze Reade (4th), Anna Blyth (8th)
The British challenge
Shanaze Reade
Anna Blyth
LIVE UPDATES - PRESS REFRESH REGULARLY
FINAL RESULTS (times are provisional)
1 Lisandra Guerra Rodriguez (Cuba) 34.021sec
2 Simona Krupeckaite (Lithuania) 34.066sec
3 Sandie Clair (France) 34.253sec
4 Willy Kanis (Netherlands) 34.254sec
5 Jinjie Gong (China) 34.449sec
6 Miriam Welte (Germany) 34.666sec
7 Shanaze Reade (Great Britain) 34.702sec
8 Natallia Tsylinskaya (Belarus) 34.725sec
9 Anna Blyth (Great Britain) 34.752sec
10 Yvonne Hijgenaar (Netherlands) 34.896sec
11 Lulu Zheng (China) 34.992sec
12 Kaarle McCulloch (Australia) 35.026sec
13 Lyubov Shulika (Ukraine) 35.267sec
14 Diana Maria Garcia Orrego (Colombia) 35.505sec
15 Virginie Cueff (France) 35.520sec
16 Jutatip Maneephan (Thailand) 37.545sec
Join us shortly for the gold and bronze medal races in the individual pursuit as Bradley Wiggins bids to retain his world title
19.36 NEW BEST TIME The Cuban Lisandra Guerra Rodriguez is the first winner of a rainbow jersey at the Manchester Championships with a time of 34.021 seconds. Silver goes to Krupeckaite and Clair gets bronze. Seventh and ninth places for the British riders.
19.35 LAST RIDER TO GO Lisandra Guerra Rodriguez of Cuba has form. She won the kilometre titles at the Beijing and Los Angeles World Cups with times of 33.994 seconds and 33.955 seconds. She'll need to repeat that to win gold.
19.34 The penultimate rider to go is Natallia Tsylinskaya of Belarus, who has been a rival of Victoria Pendleton's in the sprint during the World Cup season. She manages 34.725 seconds, which is a bit of a disappointing ride by her standards.
19.30 NEW BEST TIME Into the final three riders now. Simona Krupeckaite of Lithuania sets a time of 34.066 seconds. That's given her the lead and assured her of at least a bronze medal.
BRITISH RIDERcolour>
19.26 Massive cheers for Reade, the BMX kid, as she sets off. After a super first lap she falls away a fraction and finishes on 34.702 seconds.
19.25 Now it's Shanaze Reade time.
19.24 Wow. Willy Kanis misses Sandy Clair's time by 0.001 of a second. By any standards that's close.
19.21 Now for two Dutch riders who team up pretty nicely in the women's team sprint. Yvonne Hijgenaar can manage only 34.896 seconds. So that leaves Sandy Clair still top of the leaderboard with five riders still to go. Next of whom is Dutch woman Willy Kanis.
BRITISH RIDERcolour>
19.19 After a great first lap of 19.4 Anna Blyth hits the line in 34.752 seconds, which the velodrome commentator is hailing as a personal best. It's good enough for fourth place at this stage.
19.15 NEW BEST TIME They've stopped dancing in Beijing and now they're tangoing in Paris as Sandie Clair goes top of the leaderboard.
And next up it's Anna Blyth, the 19-year-old from Great Britain, who is greeted by huge cheers.
19.09 NEW BEST TIME They'll be dancing in the streets of Beijing tonight (briefly at least) as Jinjie Gong takes the lead with a time of 34.449 seconds.
19.07 The first of two Chinese riders, Lulu Zheng, takes second place... let's see what the next, Junjie Gong, who won the 500metres at the Copenhagen World Cup, can do.
19.05 NEW BEST TIME Miriam Welte of Germany sets a time of 34.666 seconds.
19.03 There are two British riders in field of 16, with Anna Blyth going 10th and Shanaze Reade 13th. Anna Meares the defending champion does not ride so the favourites include Simona Krupeckaite of Lithuania, Natallia Tsylinskaya of Belarus and Lisandra Guerra Rodriguez of Cuba, the three last to go.
19.00 Three riders have gone so far, with the Australian Kaarle McCulloch setting the best time for the two-lap race with 35.026 seconds.
18.55 Welcome to Manchester for the opening night of the World Track Championships where the cloud cast by the news about Rob Hayles is beginning to clear and attention is turning to the racing.
The opening ceremony has finished, the flag-bearing children have cleared the track and UCI president Pat McQuaid has made his opening remarks. Rumours that he would burn an effigy of ASO boss Christian Prudhomme turned out not to be true.
So, on with the racing: First up is the women's 500m time trial, featuring Anna Blyth and Shanaze Reade.
Thank you for reading 20 articles this month* Join now for unlimited access
Enjoy your first month for just £1 / $1 / €1
*Read 5 free articles per month without a subscription
Join now for unlimited access
Try first month for just £1 / $1 / €1