VALVERDE BANNED FROM WORLDS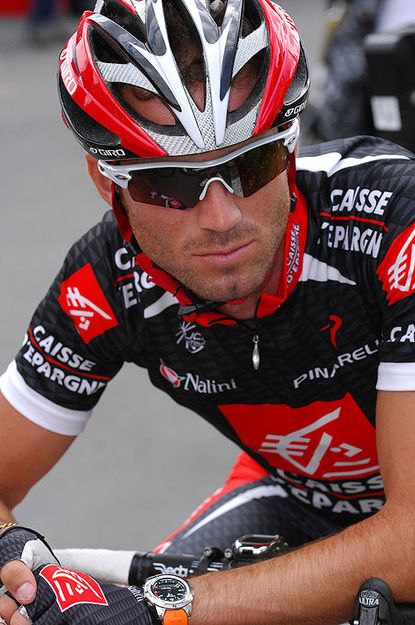 Spanish pro Alejandro Valverde has been banned from riding the World Championships by cycling's governing body, the Union Cycliste International (UCI), and will now face investigation for doping.
The Caisse D'Epargne rider has been linked to the Operacion Puerto anti-doping investigation carried out by Spanish authorities which centred around the Madrid laboratory of Dr Eufemiano Fuentes, which was found to contain sophisticated blood doping equipment. In a statement issued on Wednesday, the UCI cited Valverde's possible involvement with Operacion Puerto as the reason for his exclusion from the World Champs, due to take place in Stuttgart, Germany, on September 26-30.
"During the meticulous studying of the 6,000-page Puerto dossier, the International Cycling Union (UCI) has concluded that several documents may show the involvement of Alejandro Valverde in the affair," the statement says.
"In accordance with its regulations, the UCI has requested the Spanish Cycling Federation (RFEC) to open disciplinary proceedings against the rider as soon as possible. These proceedings would not imply any guilt on the part of Alejandro Valverde. However, according to UCI regulations, and to safeguard the atmosphere and reputation of the World Championships, Alejandro Valverde will be prevented from participating in the forthcoming UCI Road World Championships in Stuttgart."
If Valverde is found to have been involved with Fuentes and doping, he will receive a two-year ban and be fined a whole year's salary in accordance with the UCI's 'Rider Commitment to New Cycling', which all ProTour riders and particpants in this year's Tour de France had to sign. Valverde finished sixth in this year's Tour.
Valverde had elected not to ride the Tour of Spain, which starts on Saturday, instead concentrating on preparations for the Worlds. However, earlier this month the organisers of the World Champs had said that Valverde and Erik Zabel, who also admitted to doping the past, were not welcome at the event.
RELATED LINKS
Zabel and Valverde get cold shoulder from Stuttgart
Fuentes: 51 riders to be questioned
DNA tests confirm Ullrich link to Operacion Puerto
Jaksche lifts lid on Operacion Puerto
Thank you for reading 20 articles this month* Join now for unlimited access
Enjoy your first month for just £1 / $1 / €1
*Read 5 free articles per month without a subscription
Join now for unlimited access
Try first month for just £1 / $1 / €1