Valverde not present at Italian hearing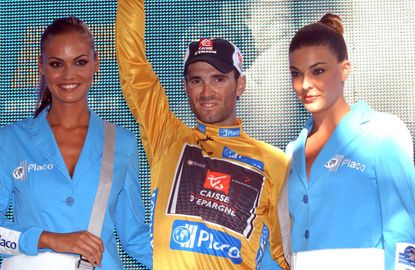 Alejandro Valverde has decided not to be present at his doping hearing in Italy today, according to early reports.
The Spaniard is facing accusations from the Italian Olympic Committee (CONI) that a blood bag containing traces of EPO found in the Operacion Puerto investigation belongs to him.
The Caisse d'Epargne rider faces a two-year suspension in Italy, and possibly elsewhere, if the hearing in Rome ultimately finds that he is guilty of doping.
Last week Valverde lodged a complaint with a Spanish court against the hearing, stating that CONI's anti-doping prosecutor Ettore Torri has ignored a Spanish judge who has said that evidence obtained in Spain cannot be used in an Italian investigation.
Valverde wants the hearing to take place on Spanish soil.
In addition to CONI, the Spanish cycling federation, the World Anti-Doping Agency and the Union Cycliste Internationale all have representatives at the hearing.
CONI are seeking to establish a link between Valverde and blood bag number 18 allocated the codename 'Valv. (piti)' found in the Madrid laboratory of Dr Eufemiano Fuentes as a result of the Operacion Puerto anti-doping investigation.
A simple DNA test would establish whether the blood belongs to Valverde, something the Spanish pro has resisted so far.
More later
RELATED LINKS
Valverde complains about Italians
Comment: End this Valverde Farce
Italians set Valverde disciplinary hearing for May 11
Alejandro Valverde: Rider Profile
April 1, 2009: Valverde set to be banned from racing in Italy
March 25, 2009: Valverde wins stage 3 of Castilla y Leon
February 12, 2009: Valverde fights back over Puerto accusations
July 5, 2008: Is Valverde's win a good thing for the Tour de France?
January 11, 2008: Valverde back in anti-doping spotlight (again)
September 25, 2007: Valverde cleared by Puerto judge
September 18, 2007: UCI says it has new information on Valverde
August 30, 2007: Valverde expected to hand over DNA sample
August 30, 2007: Valverde banned from Worlds
Thank you for reading 5 articles this month* Join now for unlimited access
Enjoy your first month for just £1 / $1 / €1
*Read 5 free articles per month without a subscription
Join now for unlimited access
Try first month for just £1 / $1 / €1