WIGGINS DISMISSES BOONEN'S CHANCES IN OLYMPIC TEAM PURSUIT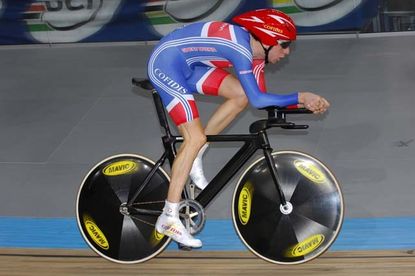 Bradley Wiggins struggled not to laugh when he heard from Cycling Weekly that Tom Boonen and his Quick Step team mates fancy their chances in the team pursuit at the Olympics with just three weeks track training.
Currently in Majorca with the Great Britain squad, the triple Olympic medallist in Athens made it clear Boonen and his team mates would not have a chance of success because the team pursuit is such a physically demanding and technical event.
?I?d love to see them try and do it. And I hope they do it because it?d create more interest in the track, but pursuiting is not as easy as Boonen seems to think it is,? Wiggins told Cycling Weekly.
?A lot of people say things about racing on the track but they don?t realise how hard it is to ride a pursuit at the highest level. They often say it and then go away and do some tests then change their mind because they realise it?s not easy.
?We?ve been working at it for ten years and we?ve only just got close to winning it. People think it?s easy to jump from the road to the track and are convinced they can get ready in three weeks but it?s not like that. The team pursuit is especially difficult because of the importance of the start and the changes and tempo. Boonen and his team mates might have had a chance if they?d been training for two years and ridden some World Cups but it?s not going to happen if they think they can jump from the Tour de France to the track in the Olympics in just three weeks.?
Wiggins is currently training for the new season in Majorca. He will make his 2008 debut on the road at the Tour of California in February.
RELATED LINKS
Tom Boonen keen to ride Olympic team pursuit
Thank you for reading 20 articles this month* Join now for unlimited access
Enjoy your first month for just £1 / $1 / €1
*Read 5 free articles per month without a subscription
Join now for unlimited access
Try first month for just £1 / $1 / €1