Women's cycling TV show seeks funding via Kickstarter
Voxwomen needs funding to complete a pilot episode for a potential new television series on women's cycling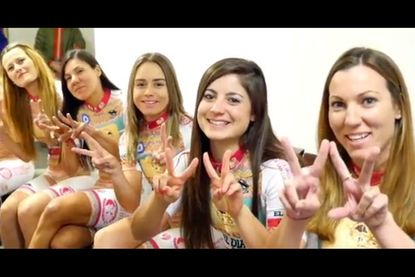 (Image credit: Voxwomen)
The producers of a potential television series aimed at women cyclists are seeking crowd-funding via website Kickstarter to get a pilot episode made and secure a broadcast slot on a 'major TV broadcaster'.
Voxwomen has attracted interest from a television broadcaster to produce a series of shows on women's cycling: all they have to do is make a pilot episode to convince the broadcaster that there is a place for a women's bike show.
In order to complete the pilot episode, they need funding of £8000 - and have appealed to the public to help out in return for a series of rewards.
At the time of writing, well over £2000 has already been pledged.
"Voxwomen has been up and running for just a short time - since the end of February we have covered women's racing across Europe, interviewed some of the top international pro-cyclists, and our team have just come back from an amazing trip as marketing partners at the Amgen Tour of California," said Voxwomen on its Kickstarter page.
>>> Videos of the week: Contador's dance up the Mortirolo, a very fast descent and more
"A major TV broadcaster has agreed to take our show if we can produce a good pilot episode. We have got some fantastic ideas for the first programme, and have already funded the first part of filming... but we need to raise enough money to finish the pilot episode to show just how good women's cycling on TV can be."
https://www.youtube.com/watch?v=2g1x4BvdGiE
Interested parties can pledge any amount via Kickstarter, with rewards dependent on the amount pledged ranging from a thank you video from the Voxwomen team to an exclusive first-look at the show, or a ride and cafe stop with the Voxwomen team.
There's also an opening for a corporate sponsor pledging £5000 or more to have their name associated with the programme.
Find out more details or make a pledge via the Voxwomen Kickstarter page, or visit the Voxwomen website.
Thank you for reading 20 articles this month* Join now for unlimited access
Enjoy your first month for just £1 / $1 / €1
*Read 5 free articles per month without a subscription
Join now for unlimited access
Try first month for just £1 / $1 / €1