World cross champs: Dutchman takes gold in junior race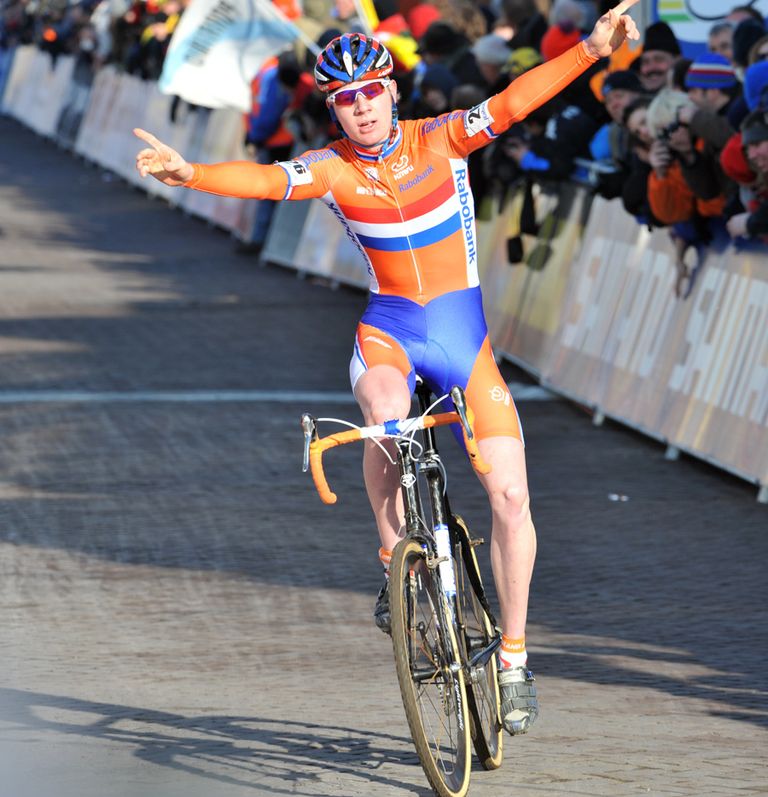 The home nation got off to a flying start in Hoogerheide as Tijman Eising took the junior World title in convincing fashion.
The big Dutchman had plenty of time for showboating on the final lap of the 40-minute race, waving to the crowd, dismounting to raise his bike overhead, and still finishing with 25 seconds in hand on the 11-strong chasing bunch.
Eising attacked on the first lap and quickly opened a 20-second gap. With three team-mates in the following group, the Netherlands squad played it smart and the combined forces of Belgian, French and Italian riders could make no inroads into Eising?s lead.
It was a Dutch one-two as Corne van Kessel took the sprint for silver, with Frenchman Alexandre Billon claiming bronze.
Fancied Belgian Sean De Bie ? nephew of former World Champion Danny De Bie ? finished a disappointing 9th on a very hard and fast course.
Of the four British juniors, Tom Moses rode strongly to pick his way through the back-markers and finish 32nd, while a crash saw Dan McLay slip back after a promising opening lap.
JUNIORS: RESULTS
1. Tijmen Eising (NL)
2.Corne Van Kessel (NL)
3.Alendre Billon (FR)
4.Wietse Bosmans (BEL)
5.Lars van der Haar (NL)
6.Luca Braidot (IT)
7.Jan Nesvadba (CZ)
8.Daniele Braidot (IT)
9.Sean De Bie (BEL)
10. Michiel Van Der Heijden
British
32. Tom Moses (GB)
40. Dan McLay (GB)
45. Sam Harrison (GB)
50. Oli Webster (GB)
2009 CYCLO-CROSS WORLD CHAMPIONSHIPS: LINKS
Elite men: Solo victory for Albert in Holland
Elite women: Wyman crashes while Vos wins
Under-23 men: Fletcher shows promise
Juniors: Dutchman takes gold
World cross champs: blog from Hoogerheide