World's largest cycle parking facility opens for business (video)
Utrecht central station's new underground bike store can currently hold 6,000 cycles, but will expand to hold over 12,000 by 2018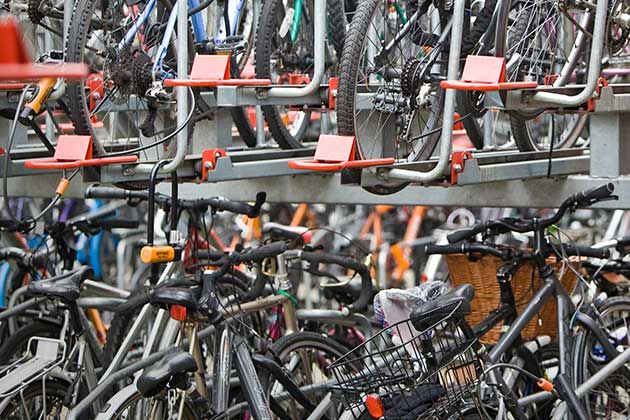 The world's biggest underground bike parking facility has opened for business this week in Utrecht, the Netherlands.
The bike store is situated underneath Utrecht central station and opened with spaces for 6,000 cycles. This will be expanded in 2018 to accommodate 12,500 bikes.
Work started on the store in 2014, and it features several levels with double-decker bike racks in order to house the huge quantity of bikes.
>>> Nine bike storage solutions: hooks, racks and sheds
Users of the facility can park their cycle there for free for the first 24 hours, and thereafter it costs €1.25, or around £1.14 per day. Customers can ride into the garage via a clearly marked one-way cycle lane system.
The store was necessary to keep track of the expanding use of bikes by commuters in Utrecht, with the Guardian reporting that 43 per cent of journeys travelled under 7.5km are now by bike.
Despite the size of the facility, some people still think that it is not big enough and it will not keep pace with the growth in cycling in Utrecht.
>>> Tokyo's amazing underground bike park (video)
"By the time the politicians have made their decisions, and by the time things are built, there are more people cycling," Martijn van Es of Dutch cycling organisation Fietsersbond told the Guardian.
"It goes up every year in Netherlands. I look at a lot of cities in the Netherlands and they are just talking about building the infrastructure, but at the same time the figures are still rising."
With London suffering a stark shortage of secure cycle parking, could something like the Utrecht central station garage one day appear in the British capital?